August 05, 2016
CMU Spinoff Wins $2 Million in Cyber Attack Challenge
"We Believe Our Technology Can Make the World's Computers Safe and Secure," says CMU's David Brumley
Daniel Tkacik / 412-268-1187 / dtkacik@andrew.cmu.edu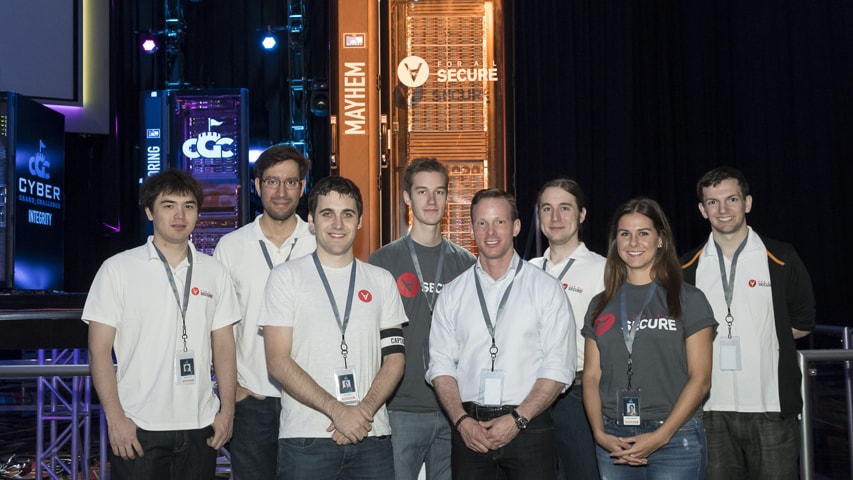 The ForAllSecure team, from left: Ryan Goulden, Thanassis Avgerinos, Alex Rebert, Ned Williamson, David Brumley, John Davis, Chelsea Mastilak and Tyler Nighswander. Credit: DARPA
ForAllSecure, a Carnegie Mellon University startup, has won $2 million in prize money as winners of the DARPA Cyber Grand Challenge (CGC), a first-of-its-kind hacking contest in which all participants are autonomous computer systems. ForAllSecure was one of seven team finalists in the Aug. 4 contest in Las Vegas.
"Our vision is to check the world's software for exploitable bugs so they can be fixed before attackers use them to hack computers," said David Brumley, CEO of ForAllSecure, director of Carnegie Mellon's CyLab Security and Privacy Institute, and professor of electrical and computer engineering. "We believe our technology can make the world's computers safe and secure."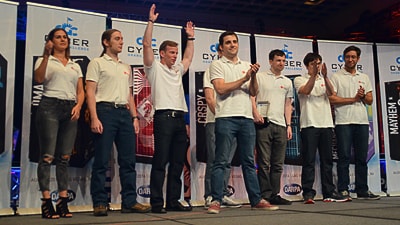 ForAllSecure's system, dubbed "MAYHEM," scans software for bugs, generates exploits and fixes vulnerabilities. The system performs every task completely autonomously.
"This is a shining moment for a startup born at Carnegie Mellon," said Jim Garrett, dean of Carnegie Mellon's College of Engineering. "We couldn't be more proud of ForAllSecure for applying its vision to the development of cutting-edge technology that addresses the global issue of security."
DARPA launched the CGC in response to the recent increase in software bugs, due in large part to the explosion of the Internet of Things — billions of connected devices like smart thermostats or fitness trackers that are built with little regard to cybersecurity. The challenge aimed to identify state-of-the-art technology to find these bugs quickly, and at scale.
ForAllSecure was co-founded in 2012 by Brumley and two Carnegie Mellon graduate students, Thanassis Avgerinos and Alex Rebert. The startup currently has eight employees and is based in Pittsburgh, Pa.
Related: