April 28, 2016
CMU Alumni Help Revive "Shuffle Along" on Broadway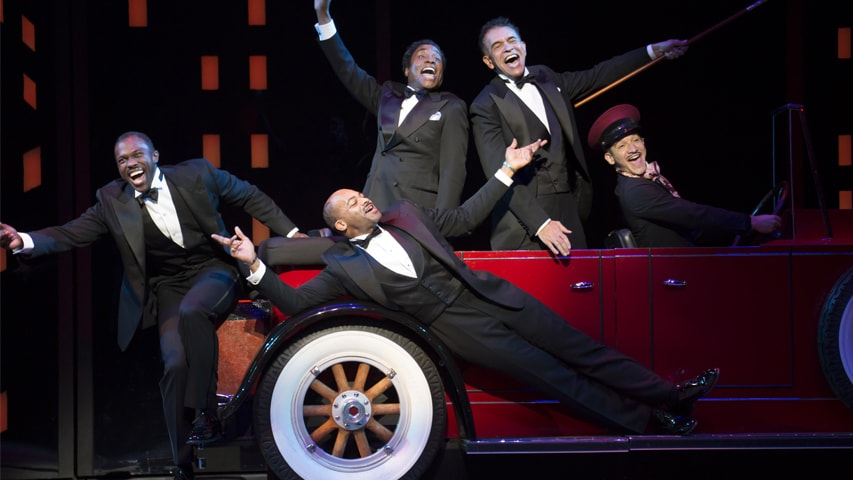 Joshua Henry, Brandon Victor Dixon, CMU alumnus Billy Porter and Brian Stokes Mitchell, with Richard Riaz Yonder in "Shuffle Along, Or, The Making of the Musical Sensation of 1921 and All That Followed." Photos by Julieta Cervantes
A documentary as music theater. The "Hamilton" of its time.
"Shuffle Along, Or, The Making of the Musical Sensation of 1921 and All that Followed," opened on Broadway April 28 with the help of several award-winning Carnegie Mellon University alumni.
The production, which is being billed as a revival, originally opened in 1921, bringing jazz, tap dance and syncopated rhythms to what was literally "The Great White Way" for the first time.
Today, under the direction of George C. Wolfe, who wrote the book for this updated take, "Shuffle Along" is akin to a "VH1 Behind the Music" type of storytelling.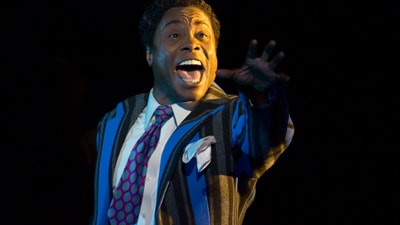 Among the all-star CMU alumni creatives who imagined this behind-the-scenes take of the original are Ann Roth, a 1953 graduate who designed the costumes; Jules Fisher, a 1960 grad, and Peggy Eisenhauer, a 1983 graduate, on lights; and Billy Porter, a 1991 alumnus on stage as one of the original book-writers Aubrey Lyles.
Roth won a 1996 Academy Award for Best Costume Design for her work in "The English Patient." Fisher and Eisenhauer have won a combined 12 Tony Awards, and Porter won a Tony for Best Actor in 2013 for his performance in "Kinky Boots."
The original "Shuffle Along" was a smash hit. It ran for more than 500 performances and featured luminaries of the day, including Josephine Baker, Paul Robeson and Florence Mills. It was the first musical to infuse important aspects of Black American artwork into the otherwise monochromatic pop-culture landscape.
"I love doing a black show," Porter said at a talk back held at the Paramount Hotel last week. "There's a different energy — it's a cultural thing."
Porter is joined by fellow Tony Award-winners Audra McDonald and Brian Stokes Mitchell. Wolfe also brought in choreographer Savion Glover. The two collaborated on "Bring in 'da Noise, Bring in 'da Funk" and other shows.
"All of us had some kind of tap training," Porter said. "I'd thrown my tap shoes in a box and hadn't looked at them in 22 years. Savion gave me the gift of enjoying tap again."
This marks the second collaboration among Wolfe, Glover and the lighting design team of Fisher and Eisenhauer, who also worked on "Bring in 'da Noise."
"The end result makes the process very rewarding," said Fisher, who has been a creative partner with Eisenhauer for 31 years. "Peggy is musically brilliant. A lot of what you see in 'Shuffle Along' is the musicality she brings. To syncopate the light cues is quite a feat. We've worked more on this show than on any before."
At a talk back for CMU alumni, Porter was happy to share with the audience some of the hard work that goes into preview performances of a Broadway production.
"Here's the thing I don't think people realize: what you're seeing in previews is a work in progress," he said. "We cut a song and a dance break today before the performance. One change requires everything to change — Jules and Peggy have to come into light it, Ann might have to alter a costume — we literally have to tech it every day."
Roth, one of the most prolific costumers today, worked nearly a year on the production, researching and collaborating with Wolfe to get the intricate period garments just right.
"I did nothing but draw and research on this show," Roth said. "I have more research than the Smithsonian."
The payoff for her comes in moments like one she described in which Porter was at a tailor shop. She put his character's wig on his head and could see that he no longer recognized the person in the mirror.
"He was giving himself over to become a different person," she said.
Further behind the scenes is Leo Evens. The 2002 CMU alumnus is the understudy for the sole white character in "Shuffle Along" and he takes on many different roles in an acrobatic manner throughout the performance.
Though he doesn't go on every evening, Evens must know the part completely just in case. Some nights he watches from different parts of the theater, and others he performs the show along with the cast from the dressing room.
"I have to give myself my own homework assignments," he said. "The character work that was so embraced in our training reminds me of school."
Much like this production, the five alumni involved matriculated during different eras in Carnegie Mellon history, but their collective roots in CMU's 102-year-old tradition of training excellent theater artists shines through in "Shuffle Along."
Related: