April 27, 2016
Project Ignite Aims To Spark Teens' Interests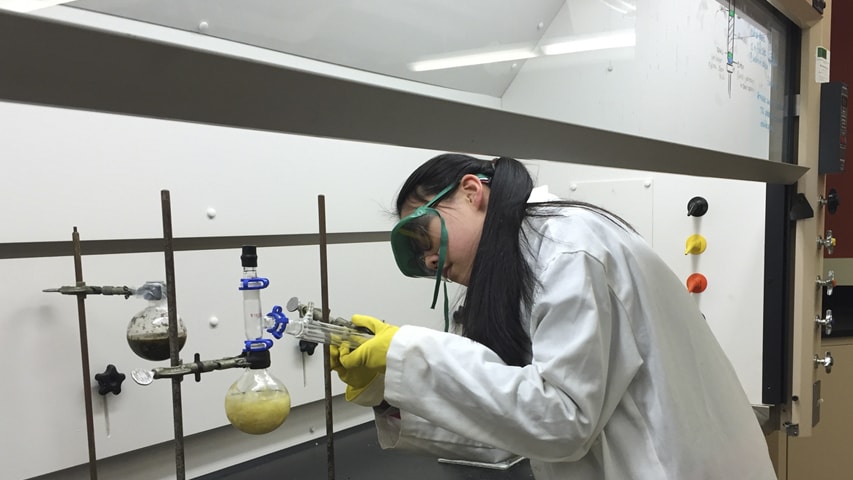 Project Ignite participant Tianyi Zhang works on an experiment to test aromatherapy effects on the neural activity of worms.
The butler did it. Or did he? On a laptop, a player clicks through a mansion interacting with characters and clues to unfold a murder mystery. If you make a correct accusation, a playful script concludes the game with the message "You didn't lose."

Local teens built the computer-generated whodunit in just 10 weekends, thanks to Project Ignite, a new Carnegie Mellon University student-run initiative to help high school students develop outside interests and pursue their passions.

Allison Perna, a senior engineering major, Eric Reeder, a sophomore engineering major, and Jonathan Merrin, a sophomore in computer science, sparked the idea.

"One of the big reasons that we started Project Ignite is because we wanted to provide high schoolers with opportunities," Reeder said. "Many students seem to have interests in areas outside of their schoolwork, but due to a lack of financial resources, a lack of knowledge or experience, or a lack of support, they end up not being able to pursue these interests."

Some 18 CMU undergraduates spent Sunday afternoons with more than three-dozen teens from Taylor Allderdice and Mount Lebanon high schools. They brought project ideas and met at CMU, where they had access to professional-level labs, equipment and facilities.

The murder mystery game was one idea. A team of high school students developed it from start to finish, including script writing, designing graphics, engineering sound and writing the programming.

Mentors Sara Adkins, a sophomore in CMU's Bachelor of Computer Science and Arts program, Grant Schwabacher, a freshman engineering major, and Bryce Summers, a senior computer science major, gave the game team support.

"They could teach themselves programming. It's not hard to figure out how to program music, and they did that," Adkins said. "I talked with them about music theory and ways to apply sound for different effects."

James Wang, a sophomore at Mount Lebanon High School, has been learning to code for about three years. Project Ignite allowed him to apply his skills and collaborate on a large project.

"The whole point of coding is to make cool things, and this is a cool thing," he said.

The participants varied in their levels of experience but shared a high degree of enthusiasm.

"Two students created a mobile app from scratch, having little to no previous programming experience. These students were full of motivation to create it with the kind-hearted vision of having all proceeds benefit various charities. They came to us with storyboards, business strategies, and a lot of heart. We gave them the resources to help make their dream come to life," Perna said.

The fruits of their labors were on display April 17. Along with the murder mystery game and the charity app, projects included:


A neuroscience experimentation project;
Building quadrotors;
Building a minecraft server;
Chemistry and biology experiments; and
Building a holographic projector.

Stephen Porter, a senior at Mount Lebanon, jumped at the opportunity to construct a quadrotor helicopter.

"It was very interesting to get your hands on one of these and just work," he said.

The use of advanced equipment and laboratory space was an important element for the participants who wouldn't normally have access to such resources.

Testing ideas was part of the fun. One team building a large-scale holographic projector first built a handheld prototype using an iPhone and small pieces of Plexiglas.  

"The hands-on experience helps you know what works and what doesn't," said Alex Jackson, a freshman physics major, who was a mentor in the program.

Funding and support for Project Ignite came from CMU's ProSEED/Crosswalk seed grant program, which fosters new ideas that cross boundaries within and outside the university; the Undergraduate Senate; the School of Computer Science; and The Leonard Gelfand Center for Service Learning and Outreach, which connected Project Ignite with high schools.

"Project Ignite is a great example of a ProSEED/Crosswalk project. It combines an entrepreneurial spirit with community service in a unique CMU kind of way," said David Quinn, who runs the ProSEED program out of CMU's Office of the Provost.

"You hope that the mentor-mentee relationship benefits the high school students. However, equally important for the ProSEED program is the experience it gives CMU students. The range of responsibilities and skills involved in being a mentor, such as communication, leadership, selflessness and empathy are things you can't replicate in the classroom," Quinn said.  

"These newfound interests may very well drive their decisions on what colleges to apply to and degrees to pursue," Reeder said. "That, to me, is incredibly heartwarming because it means that we have had an impact on these kids that is much larger than just the project they did in their 10 weeks with us, and that is what Project Ignite is really about."