April 21, 2016
Tom Mitchell Elected to American Academy of Arts and Sciences
By Byron Spice / 412-268-9068 /
bspice@cs.cmu.edu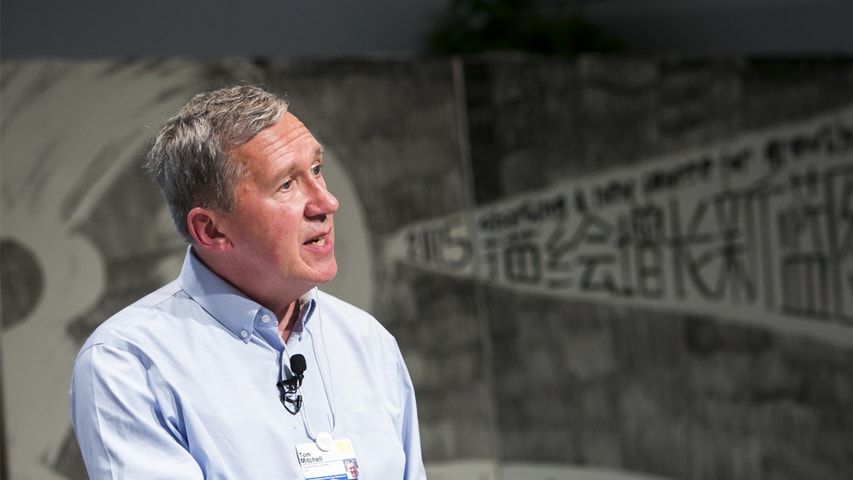 Tom Mitchell, the Fredkin University Professor of Artificial Intelligence and Machine Learning at Carnegie Mellon University, has been elected to the American Academy of Arts and Sciences (AAAS), joining the world's most accomplished scholars, scientists, writers, artists and civic leaders.
Mitchell founded the world's first Machine Learning Department at CMU's School of Computer Science in 2006 and led the department until earlier this year. His research focuses on statistical learning algorithms for understanding natural language text and on understanding how the human brain represents information. His work has been featured in The New York Times and on CBS's "60 Minutes."
A former president of the Association for the Advancement of Artificial Intelligence (AAAI), Mitchell is a fellow of both the AAAI and the American Association for the Advancement of Science.
Other members of this year's class include neuroscientist John Rubenstein, cognitive learning scientist Michelene Chi, professor and autism spokesperson Temple Grandin, jazz composer and musician Wayne Shorter and former Time managing editor Walter Isaacson. The full list of the 213 new members is online at www.amacad.org/members. They will be inducted Oct. 8 in Cambridge, Mass.
Founded in 1780, the AAAS is one of the country's oldest learned societies and independent policy research centers, convening leaders from the academic, business and government sectors to respond to the challenges facing — and opportunities available to — the nation and the world.
"It is an honor to welcome this new class of exceptional women and men as part of our distinguished membership," said Don Randel, chair of the academy's board of directors. "Their election affords us an invaluable opportunity to bring their expertise and knowledge to bear on some of the most significant challenges of our day. We look forward to engaging these new members in the work of the academy."
Mitchell joins nine current and past School of Computer Science faculty members as AAAS members, including Randy Bryant, Raj Reddy, Ed Clarke, Manuel Blum and Takeo Kanade.