April 01, 2016
Mauter earns NSF CAREER award
By Sherry Stokes / 412-268-5976 / stokes@cmu.edu
Meagan Mauter, an assistant professor of Civil & Environmental Engineering and Engineering & Public Policy, has been awarded a Faculty Early Career Development (CAREER) award from the National Science Foundation.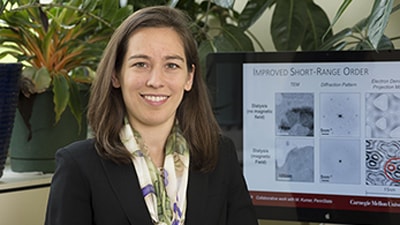 The CAREER award supports junior faculty who exemplify the role of teacher-scholars through outstanding research and education. Mauter, who holds courtesy appointments in Chemical Engineering and Materials Science & Engineering, will use her five-year CAREER award to reduce air and water pollutant emissions from power plants.
"Much of our electricity generation infrastructure was built in an earlier era when air, water and CO2 emissions were not tightly regulated," Mauter said. "In the past decade, we have developed a much greater understanding of the human health and environmental costs of these emissions, and regulatory agencies have responded with strict new limits on emissions from coal fired power plants."
Mauter's CAREER research will build upon and unify her past research topics, which include studying waste heat driven water treatment processes, investigating the limitations of these processes and looking at tradeoffs between air and water emissions at these power plants.
The project, titled "Integrated water, energy, and emissions decision making for a low-carbon future with coal-fired power plants," will develop decision support tools to help redesign coal fired power plants to cost effectively reduce emissions.
"Helping power plants to more efficiently treat water emissions will reduce the auxiliary power consumption and associated air emissions from running water treatment processes," Mauter said. "Avoiding these tradeoffs in air and water emissions will reduce the human health and environmental consequences of electricity production from coal fired power plants as we transition to a low-carbon electricity generation mix."
The award also will fund the development and characterization of new materials used in waste heat driven processes, as well as allow Mauter to include high school students in the collection and interpretation of data on the environmental impacts of water emissions from power plants.
Related: