April 26, 2016
CMU's Heinz College Named Top Analytics Program
Whether it's better understanding consumer behavior, improving health care for veterans or finding ways to save taxpayer money, operations research and analytics plays a critical role. And now Carnegie Mellon University's H. John Heinz III College can claim some of the best-trained students in the country.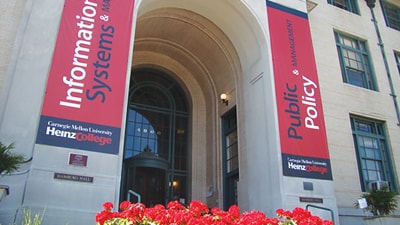 The college won the UPS George D. Smith Prize by the Institute for Operations Research and the Management Sciences (INFORMS).
The announcement was made April 10 at the 2016 INFORMS Conference on Business Analytics & Operations Research in Orlando. The prize, named for the late UPS chief executive officer, includes a $10,000 award.
Heinz College's analytical education, experiential learning activities and collaborations with partner organizations played an important role in the win.
In one project, students worked with McKinsey & Company to analyze factors that lead consumers to various health insurance decisions.
"The students brought a set of technology and analytical skills to bear on that problem which we were unaccustomed to seeing from other academic programs," said Paul Mango, director of McKinsey & Company. "We have continued to engage with fantastic Heinz students through the capstone program and have recently added Heinz to the list of top schools from which we recruit our associates."
Students also worked with Pittsburgh Veterans Engineering Resource Center (VERC). The students conducted machine learning and data mining analysis to determine the percentage of echocardiograms needed to provide optimal health care for patients at the center for the Department of Veterans Affairs.
"We did find out through the use of the analytics tools that the students developed that some of the testing was inappropriate," said Bob Monte, director of the Pittsburgh VERC. "This is important, because if we are able to eliminate some of the inappropriate testing, we are then able to provide better access to [all] patients."
Individual efforts by students also were recognized.
Megan John, a student in the Heinz College's School of Public Policy & Management Washington, D.C., program, is identifying trends within data sets of the U.S. Department of Housing and Urban Development's (HUD) Real Estate Assessment Center (REAC).
"The Carnegie Mellon effort in working specifically with analytics and the data that they have provided to us, and in the different ways of using this data, have been very important in our quest to make sure that we're effective HUD regulators," said D.J. LaVoy, deputy assistant secretary of REAC. "The project that we're working on has the potential to save millions of taxpayers' dollars."
Related: