April 13, 2016
Noted Historian and Author Earl Lewis To Give Keynote Address at Carnegie Mellon Commencement, May 15
President of the Andrew Mellon Foundation To Receive Honorary Degree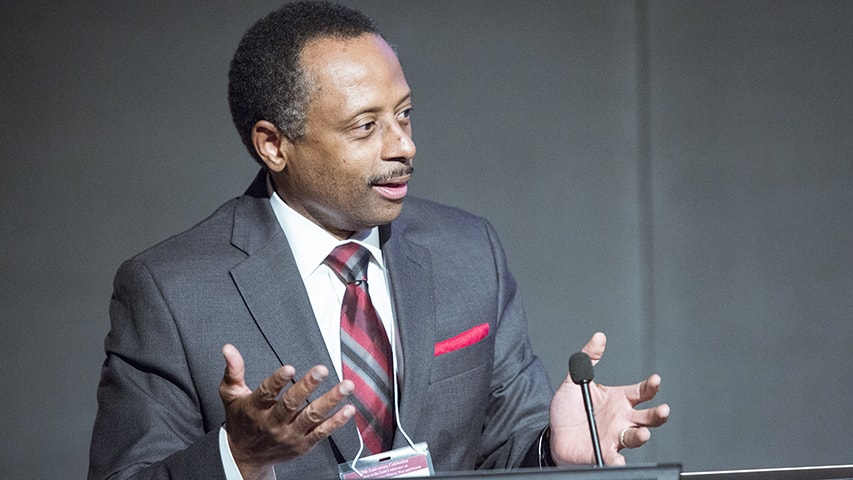 Earl Lewis

Earl Lewis, president of the Andrew W. Mellon Foundation and one of America's leading advocates for supporting the humanities and the arts in higher education, will be the keynote speaker at Carnegie Mellon's Commencement at 11 a.m., Sunday, May 15 in Gesling Stadium on the Pittsburgh campus.
Lewis also will receive an honorary Doctor of Humane Letters degree.
Lewis is a renowned social historian and fellow of the American Academy of Arts and Sciences. He visited Carnegie Mellon this past October, when he delivered the opening address for the Center for Africanamerican Urban Studies and the Economy's 20th Anniversary Conference. He presented the keynote address for the center's opening in 1995.
"Dr. Lewis' dedication to diversity, the humanities, the arts, and the use of digital learning tools to improve education resonates deeply with our core values here at Carnegie Mellon University," said President Subra Suresh. "We are honored and very fortunate to have Dr. Lewis as our keynote speaker."
A longtime supporter and friend of the university, Lewis said he was looking forward to returning to Carnegie Mellon.
"As someone who has had a relationship with Carnegie Mellon University for the last two decades, I am thrilled to receive this honor," he said.
Prior to joining the foundation as its sixth president in 2013, Lewis was provost and executive vice president for Academic Affairs and the Asa Griggs Candler Professor of History and African-American Studies at Emory University. He previously held faculty appointments at the University of California at Berkeley and the University of Michigan.
Lewis is the author and co-editor of seven books, including "The African American Urban Experience: Perspectives from the Colonial Period to the Present"; "Defending Diversity: Affirmative Action at the University of Michigan"; the award-winning "To Make Our World Anew: A History of African Americans"; and the heralded book series "American Crossroads."
Honorary Degree Recipients:
It is a Carnegie Mellon tradition to award honorary degrees at commencement to exemplary leaders, whose life and work serve as an inspiration for Carnegie Mellon students, faculty and staff.
In addition to Lewis, this year's honorary degree recipients are:
Holly Hunter (A'80), an Academy Award winner who is among the elite actors in the entertainment industry, will receive a Doctor of Fine Arts degree. Hunter won an Oscar and Golden Globe Award for Best Actress for her 1993 performance in "The Piano" as Ada, a mute Scottish woman. She also has starred on the stage and in television, winning two Emmy Awards for Best Actress.
Robert Langer, the David H. Koch Institute Professor at MIT and the most cited engineer in history, will receive a Doctor of Science and Technology degree. He has written over 1,330 articles and has nearly 1,100 patents worldwide. His patents have been licensed or sublicensed to more than 300 pharmaceutical, chemical, biotechnology and medical device companies.
Sonia Manzano (A'72), a first-generation Puerto Rican who changed the face of American television on the iconic children's television series "Sesame Street," will be presented with a Doctor of Fine Arts degree. After joining the cast as Maria, she began writing scripts and eventually earned 15 Emmy Awards as a member of the show's writing staff. She garnered two Emmy nominations for Outstanding Performer in a Children's Series.
James Swartz (TPR'66), one of the most successful venture capitalists in the world, will be awarded a Doctor of Business Practice degree. Swartz is the leading partner and founder of the Palo Alto, Calif.-based Accel Partners, a prominent global technology venture capital firm. Carnegie Mellon's new Swartz Center for Entrepreneurship, which will serve as a hub for university-wide entrepreneurial activities, is being named in his honor.
"This year's honorary degree recipients have had exceptional careers and have greatly impacted the arts, technology and business. They are outstanding role models for the Class of 2016," President Suresh said.
Student Speaker: Sophie Rose Zucker
This year's student speaker is Sophie Rose Zucker, a member of the Science and Humanities Scholars Program who will be receiving a bachelor's degree in chemistry with University Honors and a bachelor's degree in creative writing with College Honors.
In addition to her academic pursuits, Zucker has been an active member of the Carnegie Mellon community. She has been a four-year member of Alpha Chi Omega Sorority, serving on its executive board as vice president for recruitment.
Zucker was president of MORF, CMU's feminist club, and has been involved in the annual MOSAIC Conference, which focuses on gender issues. She also was editor-in-chief of The Oakland Review, CMU's literary magazine, and wrote and directed the Chemistry Department's Murder Mystery Dinner Theater production this year.
Zucker has accepted a job with Epic Systems, in Madison, Wis., a software company for health care organizations.
More than 5,000 bachelor's, master's and doctoral degrees will be conferred at Carnegie Mellon's main commencement ceremony.
The ceremony will be webcast at http://www.cmu.edu/commencement.
Learn more about the speakers and honorary degree recipients.