April 06, 2016
Presidential Candidate Clinton Visits CMU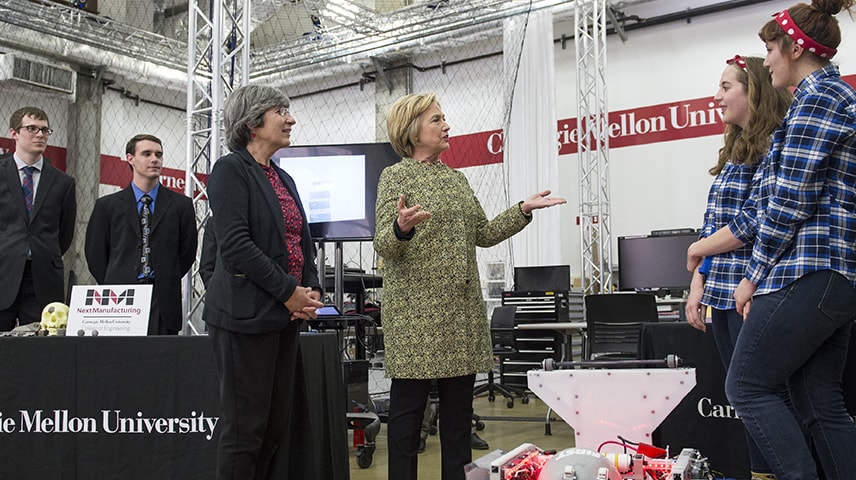 Hillary Rodham Clinton talks with members of the Girls of Steel robotics team during a presidential campaign stop.
Hillary Rodham Clinton visited Carnegie Mellon University's Pittsburgh campus on Wednesday, April 6 as her presidential campaign made its way through Pennsylvania. Speaking to a rally of some 2,000 supporters at the university's Skibo Gymnasium, Clinton had high praise for CMU's expertise in robotics.
"I was just at the Robotics Institute, and I saw the extraordinary work they're doing in medicine, in manufacturing, in the kind of home care delivery that will become a part of our future because of this great university," Clinton said at the rally.
Clinton is no stranger to CMU, having visited the university's Qatar campus in 2010 while she was U.S secretary of state. Her daughter, Chelsea Clinton, also visited the Pittsburgh campus as part of her 2008 primary campaign.
Clinton's visit to CMU comes during National Robotics Week, and the presidential candidate toured Carnegie Mellon's Robotics Institute prior to the rally. She met with CMU faculty and researchers, who demonstrated technologies that offer benefits in a range of fields, including manufacturing and health care.
Carnegie Mellon has been host to a variety of presidential candidates over the past few elections, including President Barack Obama and Sen. John McCain. First Lady Michelle Obama also visited the Pittsburgh campus on a 2008 campaign stop.
As a 501(c)(3) nonprofit corporation, Carnegie Mellon University does not support or oppose any particular candidate and maintains an open door policy to all candidates.
Related:
Images for the media. Please credit "Carnegie Mellon University."
Contact:
Ken Walters / 412-268-1151 /
walters1@andrew.cmu.edu