September 18, 2015
U.S. Education Secretary Arne Duncan Brings Back-to-School Bus Tour to CMU
By Ken Walters / 412-268-1151 /
walters1@andrew.cmu.edu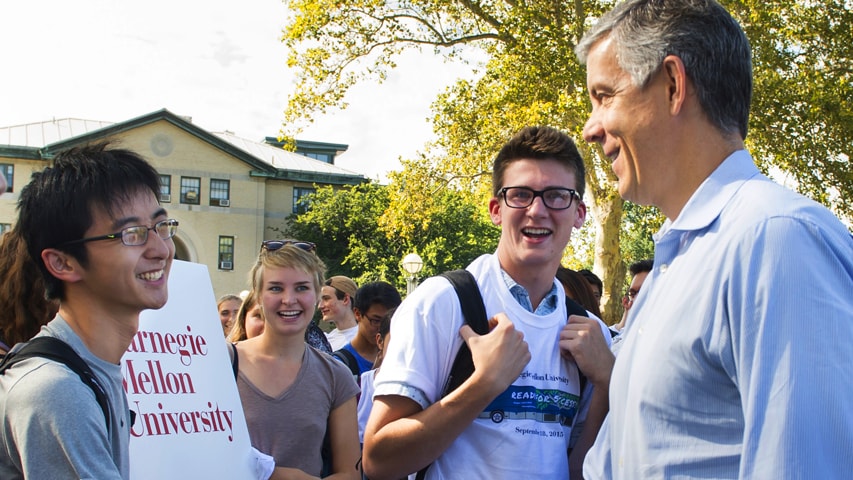 U.S. Secretary of Education Arne Duncan meets with students.
Carnegie Mellon University hosted U.S. Secretary of Education Arne Duncan as part of the "Ready for Success" back-to-school bus tour on Friday, Sept. 18 at the university's Cohon University Center.
CMU has been a leader in helping to improve learning outcomes for both K-12 and college students. The university's Simon Initiative, named for the late Nobel and Turing laureate Herbert Simon, aims to measurably improve student outcomes by harnessing a learning engineering ecosystem that has developed over several decades at CMU.
Duncan held a rally with high school and college students to highlight the importance of universities, schools and communities working together to enhance college access and empower student success. Following the rally, Duncan visited with Carnegie Mellon faculty to see some of the learning technologies created at CMU, including:
"Virtual Peers," which features animated characters that engage students in conversation and learning activities and has demonstrated results in strengthening the social skills of children with autism;
Arts and Bots, a kit from CMU's CREATE Lab that enables students to use robotics to enhance projects in non-robotics courses and is being used in several local school districts;
Girls of Steel, a robotics team of middle and high school female students sponsored by CMU's Field Robotics Center. The team displayed the robot they took to the world championship of this year's FIRST Robotics Competition.
After viewing CMU technologies, Duncan hosted a town hall with students, teachers and administrators to discuss science, technology, engineering and math (STEM) education and the path to college. He also addressed how innovation can help the higher education agenda by increasing college access, affordability, completion and workforce development.
Joining Secretary Duncan were:
CMU Provost Farnam Jahanian;
Pittsburgh Mayor Bill Peduto;
Allegheny County Executive Rich Fitzgerald;
Pittsburgh Public Schools Superintendent Linda Lane;
Ken Koedinger, CMU professor of human-computer interaction and psychology;
Wil Del Pilar, deputy secretary for higher education in the Pennsylvania Department of Education;
Dava Newman, NASA deputy administrator; and
Gregg Behr, executive director of the Grable Foundation.