September 09, 2015
Carnegie Mellon Announces Inaugural Presidential Fellowships and Scholarships Recipients
By Abby Simmons / 412-268-4290 /
abbysimmons@cmu.edu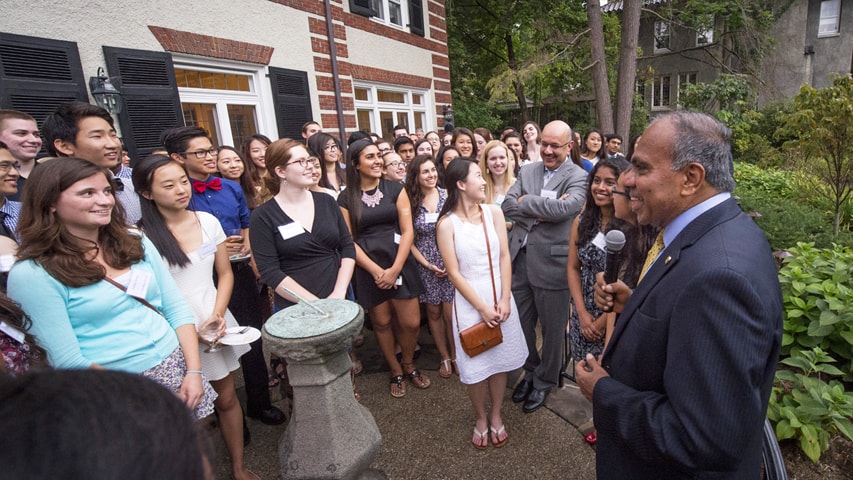 Carnegie Mellon President Subra Suresh welcomes the inaugural class of Presidential Fellows and Scholars during a reception held in their honor.
Carnegie Mellon University President Subra Suresh has announced the first class of Presidential Fellowships and Scholarships recipients.
"This program addresses one of the most pressing challenges for CMU as we compete globally for the best students as well as attract and retain the faculty who mentor them," said President Suresh, who launched the program in 2014.
The inaugural group consists of 90 undergraduate scholars and 55 graduate fellows across all of CMU's seven colleges and schools. A list of recipients and more information about the program is available online.
The new university effort will be used as a tool to successfully recruit and retain outstanding students with highly competitive tuition and academic support packages. Presidential Scholarships provide undergraduate students partial support for tuition and fees. In addition to helping to attract and retain outstanding graduate students, Presidential Fellowships give students and their faculty mentors critical financial security and flexibility that allow them to develop impactful research.
In an email to the campus community, Suresh said endowed funds of more than $150 million have already been set aside to support this and future classes of Presidential Fellows and Scholars. These funds include the market value of contributions invested in the endowment as of July 15, 2015, and all outstanding legal pledges.
Suresh also noted his commitment to grow this pool of endowment through additional funds such as the recently announced gift from Tata Consultancy Services. These contributions are essential to providing strong, permanent funding for Presidential Fellowships and Scholarships.