September 14, 2015
Carnegie Mellon, City of Pittsburgh Help Create New Network To Address Challenges Facing Nation's Urban Infrastructure and Services
CMU Receives $1 Million Grant from MacArthur Foundation to Lead Creation of New National Alliance
By Ken Walters /412-268-1151 /
walters1@andrew.cmu.edu
Carnegie Mellon University and the City of Pittsburgh are founding members of the MetroLab Network, a new national alliance among 20 metro areas and more than 25 neighboring universities to research, develop and deploy innovative technologies to address critical challenges facing urban areas. The new network was announced today at a White House event.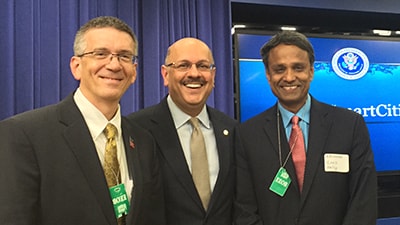 College of Engineering Dean Jim Garrett, Provost Farnam Jahanian and Heinz College Dean Ramayya Krishnan (l -r) attended the announcement at the White House.
Carnegie Mellon has been a leader in developing innovative solutions to urban challenges. To launch the new initiative, the John D. and Catherine T. MacArthur Foundation has generously provided CMU a $1 million grant to cover administration costs of the MetroLab Network, including the hiring of an executive director. During the network's formative phase, the executive director and staff will work with a steering committee comprised of founding member representatives.
"In the spirit of collaboration, Carnegie Mellon is excited to take a leading role in the founding of the MetroLab Network," said CMU Provost Farnam Jahanian, who along with Pittsburgh Mayor William Peduto attended the announcement today in the nation's capital. "This effort builds on decades of research supported by federal agencies, private foundations, and industry collaboration to create solutions that improve urban areas and provide real benefits to the public. We are eager to participate and work together with the other members of the network to develop and deploy technologies capable of creating a brighter future for our cities."
MacArthur's grant is one of a small number of investments by the foundation in efforts to use data and information technologies to better understand how cities work and to improve the urban condition.
 "The MetroLab Network will catalyze research, development, and demonstration projects that will benefit urban residents, environments, and communities," said Alaina Harkness, program officer for the MacArthur Foundation. "Working together, the network partners will pool knowledge, share resources, and boost their collective ability to make cities work better."
"Since solidifying our partnership with Carnegie Mellon University through the Metro21 initiative, the city has become an urban lab where investigators have found practical applications for their research, allowing our city to do more with less," Peduto said. "We look forward to the ways this partnership will expand and strengthen through our participation in the MetroLab Network."
CMU's Metro21 is a multidisciplinary research and educational initiative that taps expertise across the university to improve the economy and quality of life in metro areas through research, development and deployment.
New technologies present a unique opportunity to solve challenges and improve infrastructure, city services and civic engagement. Universities possess the expertise to develop and implement the technologies, while city governments possess the knowledge and information necessary to deploy these technologies in real-world settings.  
The MetroLab Network will provide the opportunity to share successes and build shared platforms between cities and universities to increase the tangible results of innovations.
Conceptually, the MetroLab Network is based on previous successes developed from established city-university partnerships. Some examples from CMU and the city of Pittsburgh include:
Participation in the MetroLab Network will require city-university partners to develop a memorandum of understanding between home metro partners, designate representatives responsible for maintaining the collaboration with the MetroLab Network, and host an active set of research, development and deployment projects. A series of workshops between founding members will be organized to determine parameters of the collaboration.
More information on the MetroLab Network and its founding partners can be found at metrolabnetwork.org.