September 16, 2015
Bosch Group, CMU Announce $3.5M in Total Gifts for Tepper Quadrangle, New Faculty Research Chair
CMU, Bosch Celebrate Carnegie Bosch Institute's 25th Anniversary
By Ken Walters /
412-268-1151 / 
walters1@andrew.cmu.edu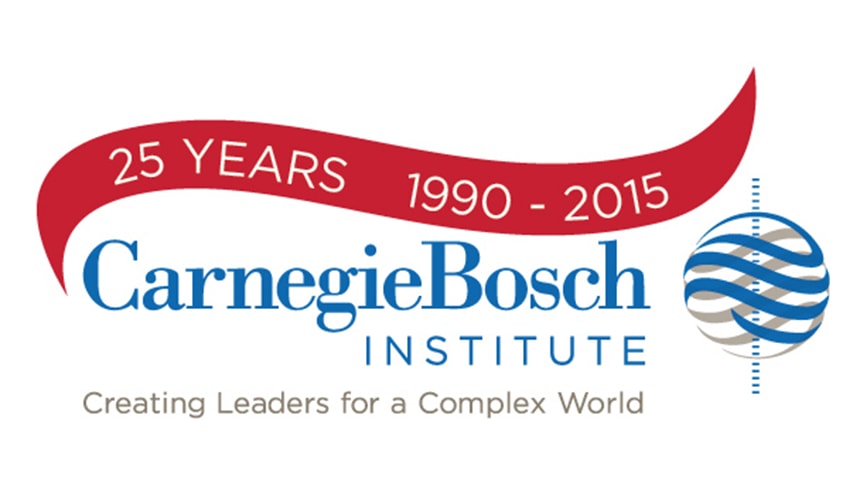 The Bosch Group, a German-based global supplier of technology and services, and Carnegie Mellon University announced two investments in the university today, including a $1 million gift to CMU's David A. Tepper Quadrangle and a $2.5 million gift for an endowed professorship. The announcement comes today in honor of the Carnegie Bosch Institute's 25th anniversary.
The Carnegie Bosch Institute, an embedded entity at CMU funded by the Bosch Group, brings together corporate and academic experts to improve management and leadership of multinational companies. Bosch executives, CMU faculty members and other corporate leaders spoke today at a conference titled "Entrepreneurship and Innovation in Global Markets" on CMU's campus.

Baljit Bains, Dennis Boecker and Todd Craig (left to right) participated in a 2014 CBI executive program.
"Today we celebrate the continued partnership of Bosch and Carnegie Mellon University, a premier institution and an ideal partner for Bosch," said Werner Struth, chairman, Robert Bosch LLC and member of the board of management, Robert Bosch GmbH, as well as a member of the CBI Governing Board. "When we established the Carnegie Bosch Institute in 1990, we knew it was the start of something remarkable for international business. The continued expansion of our partnership into research and development is a testament to the success and impact of bringing together industry and academia."
"The long-standing partnership behind the Carnegie Bosch Institute has helped blaze a trail for industry-academia collaborations," said CMU Provost Farnam Jahanian. "We thank the Bosch Group for their generous gift and look forward to working together for the next quarter century."
The Carnegie Bosch Institute gift includes $1 million to support the Tepper Quadrangle, currently under construction along Forbes Avenue on the university's Pittsburgh campus, which will house the Tepper School of Business as well as major university initiatives such as entrepreneurship and technology-enhanced learning. This addition is part of a $201 million project that was incited by a donation from Tepper School benefactor and 1982 alumnus David Tepper.
Bosch is also donating $2.5 million to establish the Bosch Distinguished Professor in Security and Privacy Technologies. This professorship will be used to support the directorship of CyLab.
"I am grateful for the support from Bosch for CyLab," said James Garrett, dean of CMU's College of Engineering. "Bosch's support for the CyLab director is excellent recognition of CyLab's cutting-edge research in cybersecurity and privacy."
"These new gifts and initiatives will allow us to further the Carnegie Bosch Institute mission of improving international management," said Sylvia Vogt, president of the Carnegie Bosch Institute. "Positioned at the intersection of industry and academia, we are uniquely able to affect how researchers and managers think about the future of global business."
Knowledge Discovery Aligned with Business Practice
Headquartered within the Tepper School of Business, the Carnegie Bosch Institute entered the management education arena long before multinational leadership became a known curricular offering within business schools. At the time of the institute's inception in 1990, CMU and the Bosch Group went a step beyond teaching global business and created a unique model of on-campus presence and front-line involvement with faculty and university leaders.
"The Carnegie Bosch Institute has had a major impact on Carnegie Mellon University and the Tepper School of Business through its funding of research on global business problems and through educational programs that prepare students and executives to manage and lead in complex global business environments," said Robert Dammon, dean of the Tepper School. "The research support provided by CBI allows our faculty to study business problems of particular importance to global corporations and to provide innovative solutions that make a lasting impact on management practice."
The three corporate-academic priorities in which the Carnegie Bosch Institute has supported over the last two-plus decades focus upon: Investing in high-impact research on the Carnegie Mellon campus; training corporate executives in leadership and management; and furthering the student experience at CMU.
Global, Local Impact                    
The conference, emceed by CBS associate producer Brittany McCandless, an alumna of CMU's Dietrich College of Humanities and Social Sciences, began with a keynote address from Jahanian titled "Accelerating Innovation in a Connected and Data-Rich World." The speech addressed technology trends, disruptive forces and market opportunities. Several panel discussions on industry trends, technology, global management and innovation featured Bosch Group executives, local business leaders and CMU faculty members.
In addition to the Carnegie Bosch Institute, one of three Robert Bosch Research and Technology Center North America locations is in Pittsburgh — the others are in Palo Alto, California, and Cambridge, Massachusetts. In 2009, Bosch acquired CMU spinoff Akustica, a top supplier of silicon microphone products that are improving voice-input quality in products such as mobile phones, tablets and headsets. CMU and Bosch researchers have partnered on many joint research projects across a variety of fields, including smart buildings, intelligent personal assistants and cybersecurity.