September 21, 2015
"AFTERSOUND: Frequency, Attack, Return" Opens Miller Gallery's Fall Season
By Margaret Cox / 412-268-4754 /
mc94@andrew.cmu.edu
and Pam Wigley / 412-268-1047 /
pwigley@andrew.cmu.edu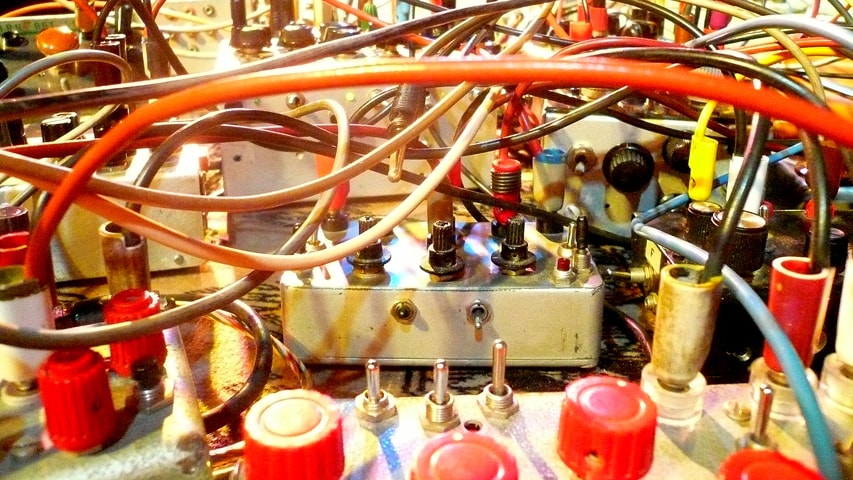 Homemade electronics by Michael Johnsen is one of the pieces featured at the Miller Gallery.
An exhibition focusing on sound as a medium of contemporary art opens the fall exhibition schedule at Carnegie Mellon University's Miller Gallery on the CMU campus.
"AFTERSOUND: Frequency, Attack, Return," is now open, and a reception celebrating the show will be held from 6 to 8 p.m., Friday, Sept. 25, featuring New York-based artist Victoria Keddie. The reception and exhibition, which runs through Nov. 22, are free and open to the public.
The exhibit was curated by Melissa Ragona, associate professor of art history, media and sound studies in the School of Art at Carnegie Mellon, and Margaret Cox, assistant director of the Miller Gallery. The exhibit blends the work of several artists and sound pioneers with archived tapes, online scores and graphics.
"Sound has entered contemporary art in profound and unexpected ways," wrote Ragona in an essay summarizing the exhibition.
"This exhibition explores sound's infiltration into contemporary discussions of aural and visual culture, with a particular focus on sound visualization, the physics of sound, political uses of sound, i.e. sonic warfare and DIY, as well as the resurgence of neo-metaphysical experiments with sound as a portal to new sensory experiences," Ragona said.
The title of the exhibition, "Aftersound," as the composer Maryanne Amacher (1938-2009) explained, is inextricably tied to the concept of an afterimage. In the same way, visitors continue to "see" an image (light) immediately after viewing it under intense circumstances, i.e. strobe effects, direct sunlight, etc. They also continue to "hear" sound after a sounding device or instrument is no longer played.
"Sound has entered contemporary art in profound and unexpected ways." — Melissa Ragona
The exhibition is one of the first in Miller Gallery history to open early for Carnegie Mellon's orientation of incoming students.
"We have already received an incredible response from first-time visitors traveling to Pittsburgh and incoming students across campus," Cox said. "The themes and concepts of the exhibition have broad appeal across disciplines of music, art and physics. These ideas have multiple points of entry that our visitors can experience through dynamic and interactive installations, graphic scores that visualize sound, live and site-specific performances and workshops."
One of the most recognizable artists in the exhibition is John Cage, who many consider an arts innovator who broadened the definitions of music, sound and silence — the latter featured in a well-known performance piece entitled, 4'33" (1952). Other artists include Carnegie Mellon's Jessie Stiles, assistant teaching professor in CMU's School of Music; Paul DeMarinis, a prominent and prolific California-based artist who places sound at the center of his practice; Pittsburgh's Michael Johnsen and Caroline Record, an alumna of the School of Art and master's degree graduate of the Human-Computer Interaction Institute; Victoria Keddie; Marina Rosenfeld; and Sergei Tcherepnin.
Special performances:
AFTERSOUND reception and live performance by New York-based artist Victoria Keddie with "Pioneers of Sound" selections from WRCT (on the CMU "Cut")
Friday, Sept. 25, 6-8 p.m., Miller Gallery Second Floor
VIA 2015 and Miller Gallery present New York-based artist Marina Rosenfeld // Site-Specific Performance
Monday, Sept. 28, 7-9 p.m. College of Fine Arts, The Great Hall
This is a very special opportunity to experience Rosenfeld's work across three platforms — exhibition, site-specific performance and artist lecture. Presented in conjunction with the Miller Gallery's AFTERSOUND exhibition, free and open to the public.