October 29, 2015
Carnegie Mellon To Break Ground on David A. Tepper Quadrangle
By Abby Simmons / 412-268-4290 /
abbysimmons@cmu.edu
/
and Chuck Finder / 412-268-3486 /
cfinder@andrew.cmu.edu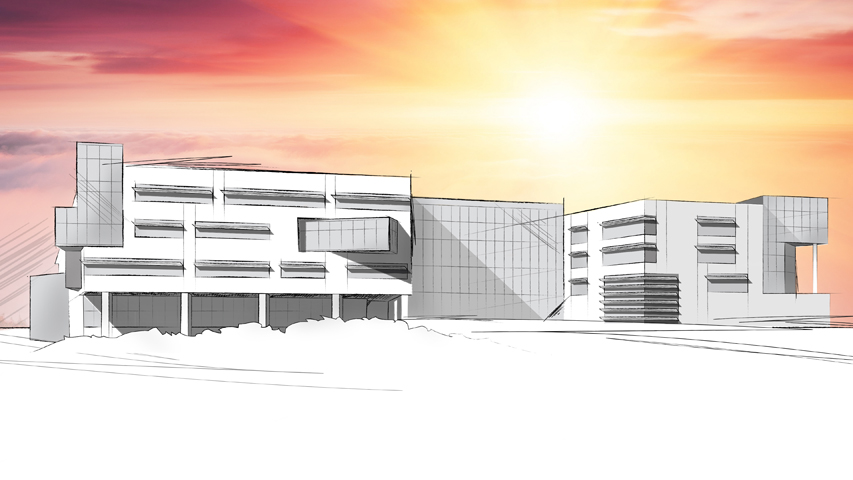 An artist's sketch of the Tepper Quad.
Carnegie Mellon University will break ground on the David A. Tepper Quadrangle, marking the official launch of the 4.5-acre site as the centerpiece of the university's new north campus. Students, faculty, staff, alumni and donors will join lead benefactors and university leadership in signaling support for the $201 million project.
A groundbreaking photo op will follow remarks from:
CMU President Subra Suresh;
Graduate Business Association President Kera Bartlett; and
Alumnus and investor David Tepper (MBA'82), whose charitable foundation provided a lead gift of $67 million for the Tepper Quad.
The Tepper Quad's first major building, a 305,000-square foot structure, is scheduled to open in late summer 2018. As a catalyst for campus-wide collaboration, the building will house a new university welcome center, the Tepper School of Business, the Swartz Center for Entrepreneurship and technology-enhanced learning initiatives. The facility will offer many quality-of-life enhancements for the campus community, including meeting and collaboration spaces, a 600-seat auditorium, fitness center and dining facilities.
When: 10:30–11:30 a.m., Friday, Oct. 30.
Where: 5000 Forbes Ave., near the intersection of Morewood and Forbes avenues. Parking will be available in CMU's East Campus Garage. TV crews that wish to arrange for onsite parking should contact Abby Simmons or Chuck Finder and plan to arrive no later than 10:15 a.m.