October 20, 2015
NSA Director To Discuss Cybersecurity at CMU
By Shilo Rea / 412-268-6094 /
shilo@cmu.edu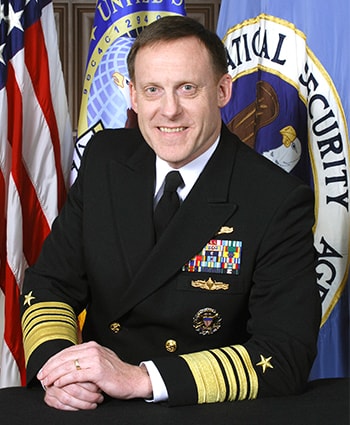 Admiral Mike Rogers will discuss cybersecurity at CMU on Oct. 26.
The ever-increasing reliance on information technology systems and networked operations has saturated almost every aspect of our daily lives. This dependence, which does have many advantages, also creates dangerous vulnerabilities.
Admiral Mike Rogers, commander of U.S. Cyber Command and director of the National Security Agency (NSA), will discuss cybersecurity issues at Carnegie Mellon University at 5 p.m., Monday, Oct. 26 in Rashid Auditorium (Gates-Hillman Center 4401).
"CMU has unique multidisciplinary strengths in cybersecurity. Hearing from Admiral Rogers should shed light on how the scholarly community may contribute to enhancing national capacity in the vital area of cybersecurity," said Kiron Skinner, director of CMU's Institute for Strategic Analysis (ISA), which is sponsoring the lecture. ISA is supported by the Dietrich College of Humanities and Social Sciences, College of Engineering, Heinz College and the School of Computer Science. 
Rogers was appointed to his current roles in April 2014. Since becoming a flag officer in 2007, Rogers also has served as the director for Intelligence for both the Joint Chiefs of Staff and U.S. Pacific Command, and most recently as Commander, U.S. Fleet Cyber Command/U.S. TENTH Fleet.
In an interview by CNN Chief National Security Correspondent Jim Scuitto that aired on C-Span, Rogers admitted that the Edward Snowden leaks cost the U.S. some capabilities and defended metadata collection for telephone calls.
"I think that, number one, the metadata collection generates value for the nation," Rogers said. "Is it a silver bullet – that in it of itself guarantees there will never be another 9/11 or there won't be another successful terrorist attack? No. It is one component of a broader strategy designed to help enhance our security."
Rogers went on to explain how metadata collection needs to be done in ways that follow U.S. laws and generate confidence among Americans.
Admiral Rogers' talk is free and open to the public; however registration is required. Please email instisa@andrew.cmu.edu to reserve your seat.
Credentialed members of the media are also invited to attend. To reserve a seat, requests must be sent to shilo@cmu.edu by 5 p.m. on Friday, Oct. 23. Requests made later and members of the press who do not pre-register will not be permitted to attend.
Backpacks and large bags will not be permitted inside the event.
Related Links:
CMU Partners with NSA Day of Cyber Program