October 26, 2015
Haunted Hotel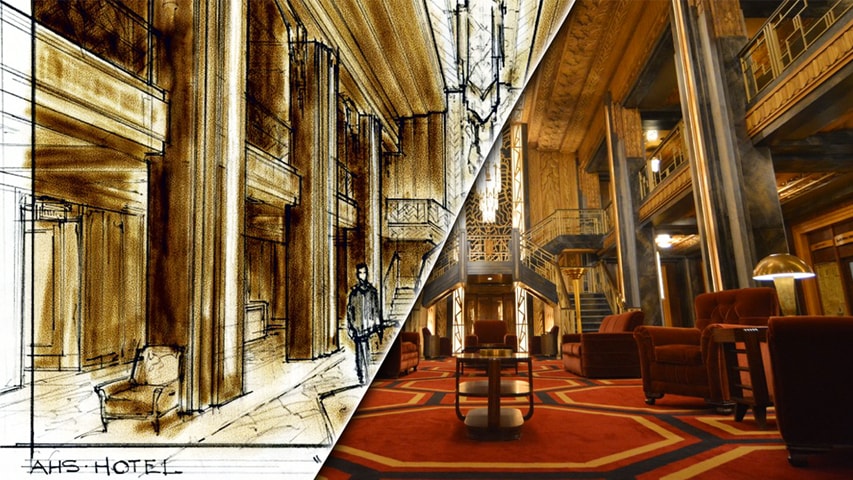 A circus. A mental hospital. A New Orleans mansion. A hotel.
Setting the stage for horror comes down to the details.
Mark Worthington (A 1991), a graduate of Carnegie Mellon University's School of Drama, is a master of the details. He's worked on movies, television and stage, but for the past five seasons he's been creating creepiness on the set of FX's "American Horror Story" ("AHS").
Each season has centered on lost souls in a different set of circumstances. Whether it was a traveling troupe, mental patients and staff or a group of witches, Worthington has helped to bring their nightmares to life.
"I tend to stay away from the obvious dark, dank spaces, slathered in cobwebs," Worthington said. "I think many times if the environment is in visual contrast to what the narrative is doing it actually can make a scene much more threatening."
This season, "AHS" is set in the Cortez, an art deco hotel with staff and guests, including Lady Gaga as the hotel owner known as the Countess. The set and feel evoke comparisons to other iconic cinematic locations such as the Overlook Hotel in Stanley Kubrick's "The Shining."
"Many of the scenes in the movie take place in bright, flat lighting. It was such a break from standard horror convention that it shocked a lot of people," he said. "I think it was a brilliant, bold choice and materially contributes to how genuinely disturbing that movie still is."
In the "AHS" hotel set, Worthington is particularly fond of the nursery, a room where kids are hooked up to the dialysis machine, play vintage video games and eat candy.
"It's such a completely unexpected environment when you first see it but strangely — and thrillingly — almost immediately makes total sense in context of what you know and will come to know about the Countess being a vampire, needing pure blood, etc. I call that set a hybrid between 'A Clockwork Orange' and 'Willy Wonka & the Chocolate Factory.'"
A production designer and art director, Worthington received a master's degree from CMU and a bachelor's from Reed College. He said whatever success he has had is due in large part to longtime CMU faculty members Barbara Anderson and her late husband, Cletus Anderson.
"[They] were the core — the heart really — of the design faculty for decades," he said.
For "AHS," Worthington has worked with fellow CMU alumni such as Zachary Quinto (A 1999), James Cromwell (A 1964), and Matt Bomer (A 2001), who is on this season.
Worthington has been nominated for five Primetime Emmys for his work on "AHS" and "Ugly Betty." He has won three Excellence in Production Design Awards from the Art Directors Guild and has been nominated for many more.
His work also appears this season on "Scream Queens," which along with "AHS" was created by Ryan Murphy.
"'Scream Queens' is very fun and completely different than 'AHS,'" he said. "It's been a busy year so far."
"AHS," has been, in some ways its own career.
"I've had — in one show — more than a career's worth of design opportunities, and it's in large measure because of the commitment Ryan Murphy has to visual storytelling as well as the fact that the anthology format of the show means that we design a completely new world every season," he said.
All of the work comes to life because of what Worthington calls his astounding crew: Decorator Ellen Brill, Art Director Denise Hudson, Construction Coordinator Anthony  Lattanzio, Key Scenic Bruce G. Smith, Assistant Art Director Sandra Carmola, Art Department Coordinator Danielle Levesque, and fellow CMU alumnus and Draftsman Tom Taylor (A 2001), to name a few.  
"I am quite literally, nothing without them," he said.
Worthington's additional credits include serving as the art director for films such as "Legally Blonde 2," "Austin Powers in Goldmember," "Hearts in Atlantis," "U.S. Marshals, "Wag the Dog," "Tombstone" and more.
For television, he worked on pilots for "Once Upon a Time," "Lost" and "Battle Creek," among others. Each one has a very different feel and tenor. It's all about creating a tone and mood in which action can more forcefully take place.
"I think simply passive backgrounds do a disservice to the idea of dramatic narrative," he said.
Related: