October 21, 2015
Curling Champ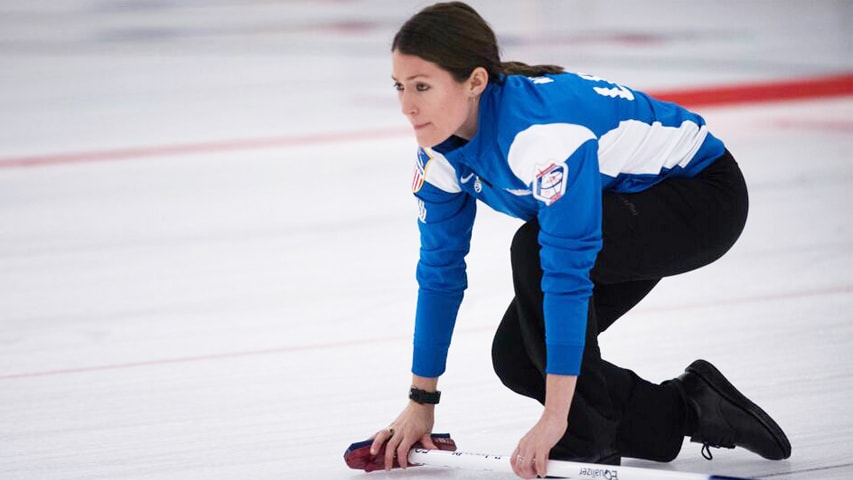 A senior regulatory specialist by day, Carnegie Mellon University alumna Jillian Walker spends her free time at the height of her favorite sport: Curling.
Walker recently represented the United States as part of a four-person team at the first World Mixed Curling Championships in September. While the team made it to the quarterfinals, they were knocked out of play by Norway, which went on to win the gold.
"My team had a great week, and I think we are all left hungry for a medal next time. It was an excellent first world event experience for me," Walker said while in Bern, Switzerland, where the competition was held. "I am eager to continue trying to pursue competing at that level. It has inspired me to work even harder."
Walker, 26, started curling long before her days at Carnegie Mellon. Growing up in Massachusetts, her family was active in curling and she spent much of her free time at the local curling club, learning the sport.
Fifteen years later, the family's work paid off, as Walker and both of her sisters made appearances at World Curling Events in 2015.
Prior to the Mixed Championships, Walker competed in several national competitions while attending Villanova University for her undergraduate degree in chemical engineering, including wins at the Grand National Curling Club Junior Women's Playdowns every year from 2005 to 2008.
Walker took a break from curling while at CMU to focus on a master's degree from the Heinz College. Now a senior regulatory affairs specialist at NanoString Technologies, which develops and manufactures in vitro diagnostic medical devices in Seattle, Walker credits her professional success to that focus.
"The internships I was able to obtain during the school year and summers while at CMU were the most important piece of what helped shape my career," Walker said, who received a master's degree in biotechnology and management.
"Rather than just focusing on an education, I wanted to gain job related skills too, networking, public speaking skills and industry related experiences," Walker said that the Heinz College provided the best program to help her achieve her goals.
Jim Jordan, senior director of Healthcare and Biotechnology programs at Heinz College was one of Walker's mentors.
"Jillian was an outstanding student leader inside and outside of the classroom during her time at Carnegie Mellon," Jordan said. "I'm excited but not shocked to see that her academic excellence and competitive spirit have translated to continued success in her athletic pursuits on an international stage."
Now back in Seattle, Walker is in the pursuit of a berth at the 2018 Winter Olympics, which will be held in Pyeongchang, South Korea. This will be the first time for mixed doubles curling to be included in the games.
"This season is critical for qualifying for the Olympics," Walker said. "It is exciting to have another Olympic curling medal opportunity."