October 28, 2015
Creative Costuming
Ever since her award-winning turn as a production designer and costume designer for Danny Boyle's conception of the London Olympics Opening Ceremony, Suttirat Larlarb, associate professor of costume design in the School of Drama, has found it challenging to keep her list of projects to a minimum.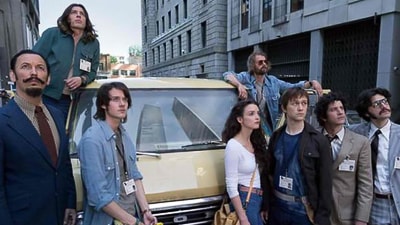 The cast of "The Walk"
At this very moment, readers can see Larlarb's work as a costume designer in the critically acclaimed films "The Walk" and "Steve Jobs," which were the Opening and Centerpiece films at this year's New York Film Festival respectively, as well as in "Finding Neverland," the Broadway musical.
"The London Olympics had such huge scale and breadth," Larlarb said. "After I did that, doing one project doesn't seem right."
The designer, known for her frequent collaborations with director Danny Boyle, among others, attributes her work ethic to her father, who was a heart surgeon. He instilled in her a sense of desire to attack work that feels rigorous and challenging. This ethos has helped propel her momentum as one of the top designers in show business today.
"If there's a challenge and it's related to what you think you've set out to do, you should take it," Larlarb said. "If you meet or exceed the challenge then that shores you up for the next decision that comes your way."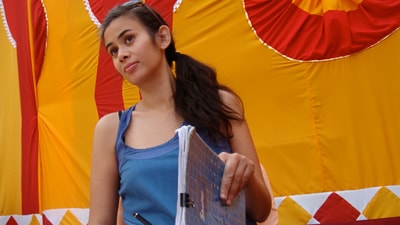 Larlarb on the set of "Slumdog Millionaire"
How does Larlarb keep so many creative trains of thought moving at the same time? Organization and teamwork lay at the cornerstone of her process.
"One of the things I really cherish is having the right team of people around me," Larlarb said. "If I have my A-team, I can charge them with certain levels of responsibility. If I'm only doing one project, it's harder to delegate and create challenges for the team in the best way."
This desire to work with a great team fueled her ambition to become a professor.  
"When I came back from the Olympics, after doing something that massive and impactful on the world, it almost seemed greedy to just keep going career-oriented alone, without giving something back," she said. "Part of me was coming to teaching because I wanted to try to instill the things I'd learned and observed and challenge students to be better."
One student Larlarb worked with in her first year at CMU reminded her so much of her young self that she hired her to be a part of her team.
Lizzie Donelan (A 2014) is currently designing a play called "Hyena"at La MaMa in New York, and after that will be assisting Larlarb on the Broadway production of the musical "Waitress."
"Working with Suttirat is the gift that keeps on giving," Donelan said. "I learn a new lesson from each project. But honestly I think the greatest thing that I have learned from Suttirat is how to be a generous and patient professional and human. Suttirat has a deep respect for the people she works with: the creatives, the actors, the makers, the vendors and her team. She sets the tone for a positive and productive work environment."
Indeed, in Donelan's words, Larlarb brings a level of "dedication, attention and positivity" to all that she does, so it's really no surprise to hear that directors from Hollywood to Broadway are clamoring to work with her. Her faith in her own instincts and penchant for stories about people working hard to prove to those around them that anything is possible is mirrored in her own life and work.
"This is a training ground for pushing things forward," Larlarb said of CMU. "I'm all about keeping things moving and keeping things moving forward."
Related: