November 05, 2015
A Recipe for Fighting Hidden Hunger
CMU To Package 120,000 Stop Hunger Now Meals in Collaboration with Kraft Heinz Company
By Abby Simmons / CMU / 412-268-4290 /
abbysimmons@cmu.edu
Judy Sapos / The Kraft Heinz Company / 412-585-1434 /
Judy.Sapos@kraftheinzcompany.com
Christina Misch / HAVAS PR / 412-456-4301 /
Chrisitna.Misch@havasww.com
In just two hours, hundreds of Carnegie Mellon University students, faculty, staff, alumni and friends will assemble 120,000 nutritious dehydrated meals for people served by the global hunger-relief agency Stop Hunger Now.
Comprised of rice, soy and vegetables, the meals include a micronutrient packet, developed by and donated through the Kraft Heinz Micronutrient Campaign. The powders in the packet contain 19 of the meal's total 23 essential vitamins and minerals and can be mixed into the meal after it is cooked. The inclusion of the micronutrients in the meal helps to prevent iron-deficiency anemia and other health issues that are caused by a lack of essential vitamins and minerals — or "hidden hunger."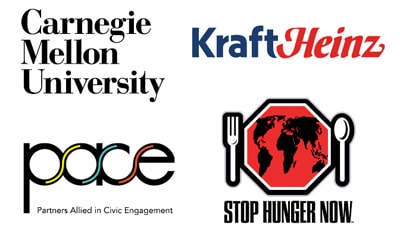 Typically volunteers must raise funds to host a Stop Hunger Now meal-packaging event, but this campus event was made possible through a donation from The Kraft Heinz Company covering 100,000 meals. After overwhelming registration interest, CMU provided funds for another 20,000 meals.
CMU, led by its Partners Allied in Civic Engagement (PACE) program, is the first university partner to join Kraft Heinz in its partnership with Stop Hunger Now. Kraft Heinz and Stop Hunger Now hope to empower more university students to join the movement in fighting hidden hunger at college campuses in 2016.
When: 11 a.m.–1 p.m., Saturday, Nov. 7.
Where: Wiegand Gymnasium, CMU's Jared L. Cohon University Center, 5000 Forbes Ave., Pittsburgh, PA 15213. Parking is available in the East Campus Garage, located next to the Cohon University Center and Gesling Stadium.
Who: The following people will be available for interviews.
Jenece Upton, manager, corporate affairs, The Kraft Heinz Company
Stop Hunger Now Vision Trip 2014, Managua, Nicaragua
Andrew Moser, program manager, Stop Hunger Now
CMU students
Elizabeth Vaughan, director of student activities, CMU
Kristine Kengor, coordinator of residential service learning, CMU
The CMU Scotty mascot and Kraft Heinz's Sergeant Ketchup and Private Pickle mascots will be available for photos and video.
Why: An Important Cause: Fighting Hidden Hunger
Approximately 795 million people in the world suffer from chronic undernourishment.
"Hidden hunger," or micronutrient deficiency, is a major public health problem limiting the potential of millions of children and cutting their lives short. Hidden hunger can lead to conditions like iron-deficiency anemia, impair physical and mental development, weaken the immune system and significantly increase the risk of dying before the age of five.
Stop Hunger Now has delivered food, essential aid and disaster relief (food, medicines, medical supplies, medical equipment, clothing and blankets) to millions of hungry, vulnerable people and disaster victims in 71 countries.