November 10, 2015
School of Architecture's "Project RE_" Focuses on Reusing, Recycling and Re-envisioning Building Materials
Nov. 16 Dedication Will Officially Mark Opening at Construction Junction
By Pam Wigley / 412-268-1047 /
pwigley@andrew.cmu.edu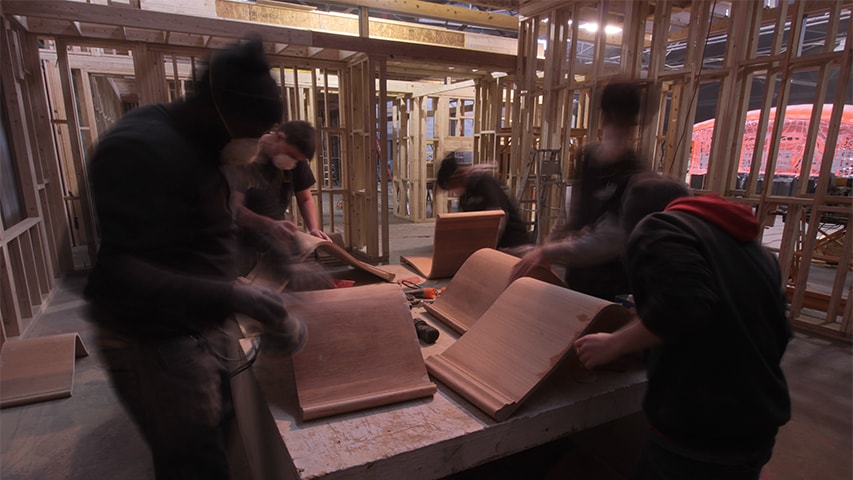 John Folan, a professor in Carnegie Mellon University's School of Architecture had a vision about 10 years ago to help improve urban communities in a novel way.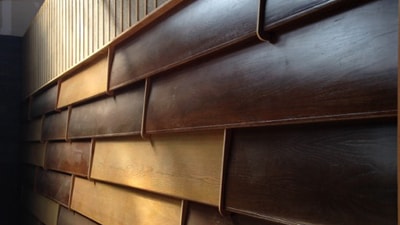 A wall of repurposed church pews lines one section of the Project RE_ workspace, located at Construction Junction in Pittsburgh's East End.
At 3:30 p.m., Monday, Nov. 16, Folan will see that vision become reality when he joins with partners from Construction Junction (CJ) and the Trade Institute of Pittsburgh (TIP) to officially dedicate Project RE_, a program of the School of Architecture's Urban Design Build Studio (UDBS).
The three nonprofits are leveraging their assets to create opportunity for prosperity by expanding knowledge and skill sets. Pittsburgh Mayor Bill Peduto, Allegheny County Executive Rich Fitzgerald, CMU Provost Farnam Jahanian and several other officials who have played a role in the project will be on hand at the Construction Junction location that houses Project RE_.
"The 'RE' references the mission of the collaborative to reuse materials, rebuild communities and restore lives," Folan said.
It's about using materials that are already available and diverting them from landfills. For both undergraduate and graduate students in the UDBS, it's about preserving the environment by retraining people to think about repurposing vs. wasting precious resources.
It's also about seeing urban communities overcome challenges through empowerment and helping themselves by earning a living wage.
"The 'RE' references the mission of the collaborative to reuse materials, rebuild communities and restore lives." John Folan, Professor of Architecture
Folan had been involved in a similar effort years ago while running a design-build program at the University of Arizona. His undergraduate students worked side-by-side with teens emerging from juvenile corrections. Through day-to-day contact, the teens began to understand that they had opportunities available to them and that circumstance was the only thing separating their ability to succeed. The undergraduate students also gained a greater understanding of the social context in which they were working.
"They accomplished things that were perceived as unattainable to them in the past," Folan said. "And we're seeing similar results through Project RE_ and the collaboration with TIP."
Each partner brings necessary skills to the table, Folan explained. Materials from deconstruction projects come through CJ, where Project RE_'s hub is located, and the UDBS works to re-imagine their use through design and prototyping. To execute the work, UDBS students collaborate with TIP apprentices, a population benefitting from skilled trade education as a means to re-entering society. For example, church pews are one of the most common building components handled by CJ, Folan said. CJ asked the UDBS to explore new uses for the pews in building construction and the UDBS worked with TIP to develop a method of processing the material and integrating it into construction.
"These pews and the other materials integrated into the design of 'Project RE_' might otherwise go to landfills, but we're looking at ways to repurpose them and demonstrate replicable strategies to the community," Folan said.
Community members can learn about this and more through classes in the project's community room, part of the 10,000 square-foot space that also features a design studio, gallery, mobile digital fabrication lab, and workshops for wood, metal and masonry.
"Separately, we had some great ideas on how we could make a difference," he said. "Together, and with the support of the philanthropic community in Pittsburgh and beyond, we're going to have a truly positive impact."