November 20, 2015
Patina Miller's on Fire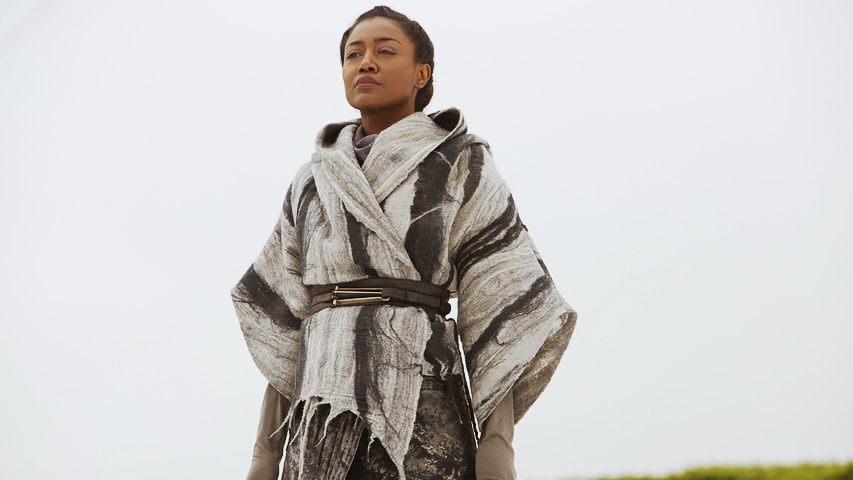 Note: This story includes a movie spoiler.
The final installment of the "Hunger Games" franchise, "Mockingjay, Part II" was released in theaters November 20, 2015.
Among the citizens of Panem fighting to overthrow President Snow is Commander Paylor of District 8, played by Carnegie Mellon University alumna Patina Miller (A 2006).
"I still can't believe I was blessed with the opportunity to be a part of a huge franchise like Hunger Games," Miller said. "The crew and the cast were so welcoming. It was an easy and lovely nine months of filming — a very pleasant experience."
Miller found out about the project, based on Suzanne Collins' bestselling series for young adults, after winning the Tony Award for Best Leading Actress in a Musical in 2013 for her work as The Leading Player in "Pippin."
"CMU gave me the playground to become who I wanted to be." — Patina Miller
"Straight after the Tony Awards my agent put it on my radar because he thought this character would be good for me," she said. "The casting director had seen me when I auditioned for 'Dream Girls' right before graduating from Carnegie Mellon."
The well-known musical theater actress has been enjoying multiple screen successes, as she also plays Daisy Grant, the press coordinator on the CBS drama "Madam Secretary."
"Believe it or not all three media — stage, film and TV — were happening at the same time," she said.  "I work very well under pressure and love trying to find my way; more than anything it was one of the biggest challenges that I have loved taking."
One aspect all of Miller's characters have had in common is strength. She has worked her way into roles that empower female characters to rise to positions of authority including president of Panem. She said the entertainment industry doesn't have enough strong female roles.
"Art is such a huge parallel to life; some of the things 'Hunger Games' deals with shed light on our current status," Miller explained. "Right now that's all this country wants is change, and we're fighting for that and never giving up. I think we all have a little bit of Katniss in us."
To current Carnegie Mellon students she suggests focusing on their work in the moment as opposed to dreaming too much about what will happen when they graduate.
"That work ethic you put in during school will pay off as you wait for that big thing to happen," Miller said. "If you put everything into your studies and learn who you are and what you love for four years, when you get out you will be ready to tackle the next part of your life with a freedom and in a way that is more fulfilling."
She also said that she feels it's very special to have the support of her alma mater as she moves forward with her career.
"CMU gave me the playground to become who I wanted to be," she said.
Related: