November 12, 2015
Drama Presents William Golding's "Lord of the Flies"
By Erin Keane Scott / 412-268-2068 /
ekscott@andrew.cmu.edu
and Pam Wigley / 412-268-1047 /
pwigley@andrew.cmu.edu
The Carnegie Mellon University School of Drama is bringing a literary classic to the stage beginning at 8 p.m., Thursday, Nov. 19, with William Golding's "Lord of the Flies," adapted for the stage by Nigel Williams. The show, directed by Associate Professor of Directing Caden Manson, will run through Dec. 5 in the Philip Chosky Theater in CMU's Purnell Center for the Arts.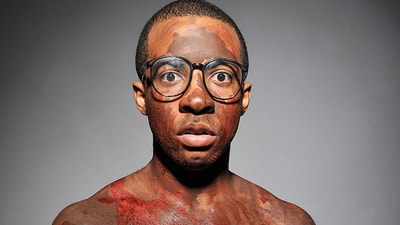 Avery Smith plays Piggy.
"Williams Golding's focus on individual responsibility in 'Lord of the Flies' is once again prescient — and a clarion call for acceptance and civility," said Peter Cooke, professor and head of the School of Drama.
This dystopian story tackles themes of innocence, reason and human nature when a plane crash leaves a group of young boys to their own devices on an island. As reason and humanity deteriorates within their chaotic society, innocence is lost, sides are taken and violence is a weapon for survival.
The CMU production is an exciting re-envisioning of this story on stage, Manson said. Both boys and girls meet at an unsupervised party to act out this play. Through the incorporation of media and live camera work, this production examines modern day instances of bullying, destruction, violence and isolation.
"From online trolls, cyber bullying and Snapchat murders to school shootings and two decades of war, Golding's 'Lord of the Flies' is as relative and potent today as it was in 1954," Manson said.
To purchase tickets, call the box office at 412-268-2407 between noon and 5 p.m., Monday through Friday, or visit the box office online.