November 20, 2015
China Scholarship Council and Carnegie Mellon To Provide Funding for Graduate Students
New Fellowships Support Students Across Academic Disciplines
Contact: Abby Simmons / 412-268-4290 / abbysimmons@cmu.edu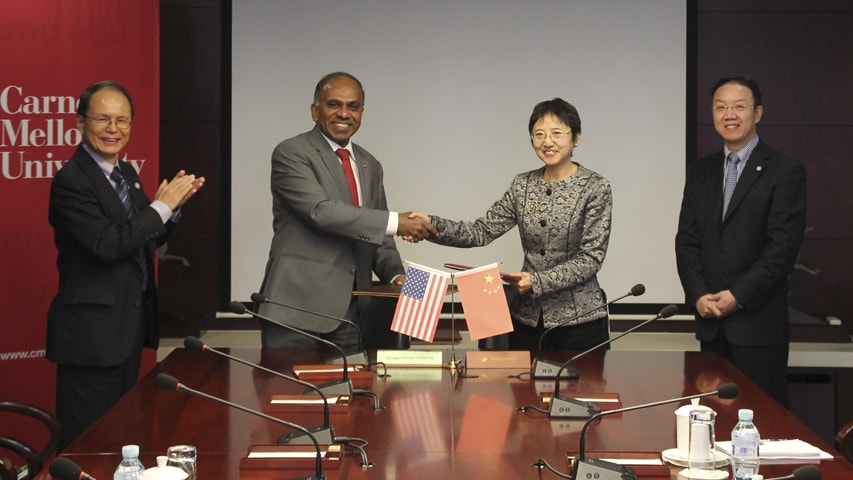 From left are: CMU Vice Provost for International Programs and Strategy K. Jimmy Hsia, CMU President Subra Suresh, CSC Secretary-General Jinghui Liu and CSC Deputy Director Zhixue Dong.
Chinese students who have been admitted to graduate programs at Carnegie Mellon University will receive new fellowships from the China Scholarship Council, which, together with funding from the university, federal grants and other sources, will provide up to $32 million in financial support over the next five years.
CMU President Subra Suresh and CSC Secretary-General Jinghui Liu signed an agreement today in Beijing to create this new program. Over the next five years, the program will create fellowships for up to 20 CMU doctoral students annually. CSC will provide each fellow full tuition and a stipend for two years, with CMU offering its customary support for the students after that. The program also will create up to four master's degree fellowships annually; CSC will provide partial tuition and stipend for two years to each master's fellow.
Fellowship support for doctoral students will focus on science, technology, engineering and math (STEM) fields, the social sciences and humanities, as well as design and architecture. Financial support for students admitted to master's degree programs will focus on the arts, drama and music.
"This new scholarship program further strengthens the university's collaboration with China," said President Subra Suresh. "We look forward to working with the China Scholarship Council to support an outstanding cohort of Carnegie Mellon students who will have a substantial impact around the world during their careers."
"Our partnership with Carnegie Mellon will create more opportunities for scholars from China to study at a leading international research institution and immerse themselves in a culture of innovation, creativity and scholarly activities," Liu said.
CMU has a longstanding history of collaboration with China. Mao Yisheng, China's pioneer in bridge building who revolutionized the engineering field, was the first student to graduate with a doctorate from the university in 1919. More than 2,000 Chinese students enrolled at CMU in Fall 2015 and represent the university's largest international student group. In addition, many CMU faculty and researchers have educational and research collaborations with colleagues from a number of institutions in China.
The signing ceremony for the China Scholarship Council-Carnegie Mellon University Joint Funding Program also included K. Jimmy Hsia, vice provost for international programs and strategy, who played a key role in facilitating the discussions that led to the agreement.
The CSC, a nonprofit institution affiliated with China's Ministry of Education, works to promote mutual understanding, cooperation and exchanges in politics, economy, culture, education and trade between China and other countries.
Students interested in applying for this funding program will follow the same admission process as all other prospective master's degree and doctoral students. CMU will encourage admitted students from China to apply for support from the CSC-CMU Joint Funding Program beginning this academic year.