May 15, 2015
Alan Alda To Deliver Keynote Address at Commencement, May 17
By Ken Walters / 412-268-1151 /
walters1@andrew.cmu.edu
and Abby Simmons / 412-268-4290 /
abbysimmons@cmu.edu
Alan Alda, an acclaimed actor, writer and director who has a passion for science and technology, will be the keynote speaker at Carnegie Mellon University's 118th Commencement. He is best known for his starring roles as Hawkeye Pierce in the TV series "M*A*S*H" and as Arnold Vinick in "The West Wing." Alda, who exemplifies Carnegie Mellon's interdisciplinary strengths in the arts and sciences, also will receive an honorary Doctor of Fine Arts degree.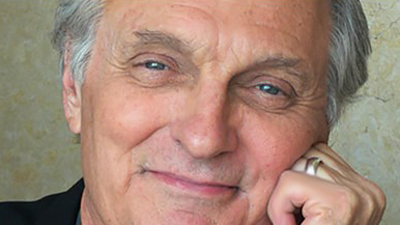 Alan Alda will receive an honorary Doctor of Fine Arts degree.
Joining Alda on the commencement platform will be student speaker Brooke Kuei, who is graduating with a bachelor's degree in physics and a minor in professional writing, and four additional honorary degree recipients.
Joyce Kozloff, a major American visual artist whose work fuses pattern and movement with social engagement, will receive a Doctor of Fine Arts degree. Kozloff earned her bachelor's degree at CMU in 1964.
Kai-Fu Lee, a prominent computer scientist, venture capitalist, corporate leader, writer and former CMU faculty member, will receive a Doctor of Business Practice degree. He completed his doctorate at CMU in 1988.
Stephen Schwartz, one of the most successful songwriters in the history of musical theater with three Academy awards, four Grammy awards and four Drama Desk awards, will receive a Doctor of Fine Arts degree. He earned a bachelor's degree from CMU in 1968.
Carl Wieman, who shared the 2001 Nobel Prize in Physics, will receive a Doctor of Science and Technology degree. While his research continues, his main pursuit in recent years has been on improving undergraduate physics and science education.
More than 3,000 bachelor's, master's and doctoral degrees will be conferred at the main commencement ceremony, which will be broadcast live at http://www.cmu.edu/event/commencement/.
When: 11 a.m., Sunday, May 17 (rain or shine).
Where: Gesling Stadium, CMU campus.
Please Note: Media planning to attend Sunday's ceremony should contact Ken Walters at 412-480-4396 or Abby Simmons at 412-956-9425 for instructions on parking, photography and seating.