March 05, 2015
wats:ON? Festival Features Visual, Sound, Performance and Tactile Arts That Engage the Senses
"POW" Begins Thursday, March 19
By Katie Ellis / 412-268-1047 / kellis@andrew.cmu.edu / and
Pam Wigley / 412-268-1047 / pwigley@andrew.cmu.edu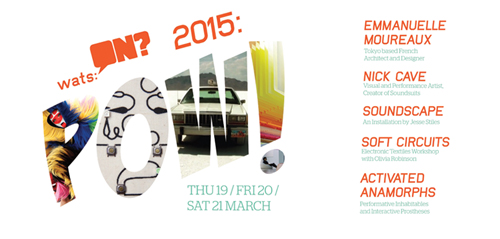 The 2015 Jill Watson Festival Across the Arts (wats:ON?), celebrating the creative accomplishments of the late Jill Watson, will begin at 5:30 p.m., Thursday, March 19, in the Great Hall of the College of Fine Arts building on the Carnegie Mellon University campus. This year, five artists and performance groups known for making big visual and audio impacts through their work will participate in the festival, titled "POW!"
The festival has been a staple in the CMU community since it began in 1997. The annual tradition of bringing artists, designers and architects to campus will continue this year, led by the efforts of Spike Wolff, the festival's curator and executive director. Wolff, who is beginning her fifth year of involvement with the wats:ON? Festival, is bringing a diverse group of artists to campus to celebrate art that engages the senses.
Wolff said it's important that the festival be interdisciplinary to reflect Watson's advocacy for getting varied groups of people engaged in the arts, whether they were her students or residents from the neighboring community.
"The wats:ON? Festival Across the Arts brings an eclectic range of nationally and internationally renowned artists and their works to campus, providing a forum for interaction and collaboration between students and faculty from diverse fields within the campus community and beyond," Wolff said. "The interdisciplinary nature of the festival is inspired by the interests and accomplishments of Jill Watson, whose interest in the arts inspired others through her work and her teaching."
Wolff began planning the festival by setting her sights on one artist and using that person's skillset as a guide to establishing the remainder of the program, from its message to the public to its central theme.
"The works of these artists are strikingly dynamic, vibrant and intensely engaging, Wolff said. "Their installations and performances immerse us in a language of spirited invention through the metamorphosis of space and transfiguration of the body. Wats:ON? 2015 explores the power of art that engages our minds, engulfs our senses and invades our psyche."
Artists that will be a part of this year's festival are:
Visual and performance artist, Nick Cave, known for his sculpted "soundsuits," who will host a talk about his work in Kresge Theatre;
French architect and designer Emmanuelle Moureaux, who will provide a colorful three-dimensional architectural installation outside of the CFA Dean's Office;
Jesse Stiles, assistant teaching professor in CMU's School of Music, who will provide a robotic generative sound installation, called "Kinderklavierfeld," in CFA's Great Hall;
Fiber artist Olivia Robinson, who will conduct a soft sensors, circuitry and electronic textiles workshop; and
Activated Anamorphs, an ensemble group performing in reactive wearable sculpture and prosthetic apparatus, and featuring student participants from all five schools within CMU's College of Fine Arts.
A full description of each guest artist is available online.
Sponsored by the Jill Watson Family Foundation and CMU's College of Fine Arts, the festival will run through Saturday, March 21.
For more information on the wats:ON? Festival, upcoming publications and the woman who inspired the event, visit www.watsonfestival.org.
###