March 06, 2015
Carnegie Mellon 2015 MFA Thesis Exhibition Opens March 27 at Miller Gallery
By Lauren Goshinski / 412-268-1533 /
laurengo@andrew.cmu.edu
/
and Pam Wigley / 412-889-6238 /
pwigley@andrew.cmu.edu

A purposefully untitled show, only identified by a vague set of glyph-like characters, the 2015 Master of Fine Arts (MFA) Thesis exhibition at Carnegie Mellon University presents final work that is described by John Carson, head of the School of Art, as "various ways of examining and commenting on the distance between human aspiration and experienced contemporary reality."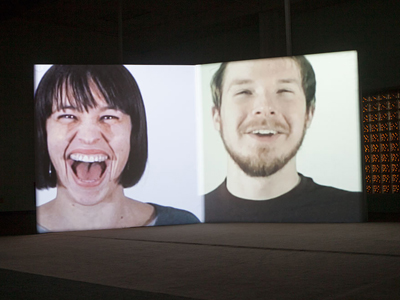 The exhibition opens with a reception from 6 – 8 p.m., Friday, March 27, in the Miller Gallery, and will be on view through April 12. Artist critiques occur April 2 with special guest Kelly Taxter, assistant curator at the Jewish Museum in New York City, and April 9 with John Massier, visual arts curator at the Hallwalls Contemporary Arts Center in Buffalo, N.Y. The critiques will be held from 6 – 9:30 p.m. in the gallery. All events are free and open to the public.
More information and the downloadable 2015 MFA Thesis catalog are at http://millergallery.cfa.cmu.edu/exhibitions/mfa2015/.
"The work in this exhibition demonstrates how art can resist conformity, present critical viewpoints and communicate alternative values. Art can counter prevailing commercial and ideological imperatives and provide a broader consideration of what is important in our lives," Carson said.
Artist Statements:
RAFAEL ABREU-CANEDO: My work is deeply tied to my own body and being. Conviviality and my personal experiences are a source of curiosity, which I explore/investigate in a wide range of traditional and non-traditional media. While I often employ the vernacular of performance, video, photography and public intervention amongst other artistic languages, my body of work is better described as the evidence and product of a myriad of concurrent and intertwining explorations into the themes of the body, the individual and the group, social behavior, language and representation — amongst others.
ELIZABETH BUSCHMANN: My interdisciplinary approach carries a broad spectrum of influences that require me to operate within a theoretical rationale. I test the effects of media on individual subjects and present them in site-specific contexts. I am interested in the articulation of self, requiring both myself and of my subjects in the process of creating narrative experiences. My current work obliges me to take the role of the artist. Awkward presentation lends the work a poignant quality, contradicting the vanity inherent in most portraiture, as well as eschewing the technical virtuosity, which affords art its social status.
ISLA HANSEN: My work reenacts forms of popular media, play and systems of production, recreating ways in which bodies connect to technologies in the world around us. My work sets in motion new and sometimes crude means of image-making in order to break down or convolute processes of technological mediation. Recently, I have focused on the ways in which camera and robotic systems in the gaming, medicine, food and sports industries have developed by tracking and positioning the human body as analogue. These absurd systems reinterpret and complicate the relationship between the human body and technological progress.
DAKOTAH KONICEK: I tinker. My work as an artist imitates invention as I investigate interrelated systems through kinetic sculpture. As I build, I concentrate on the tenuous balance of parts in an orchestrated cascade of cause and effect. These systems set up symbiotic relationships with contradicting master slave moments. This poetic suggestion reveals truths of the world around us. I often combine order and error in simple repetitive human/mechanical gestures that are subject to surrounding influences. Tensions between nature and technology become the focus in order to reposition our connection with them. I choose salvaged materials based on the practicality of their newly assigned function. Repurposing these objects allows me to playfully exploit their prior function to form new vocabularies.
JAEWOOK LEE: My works reflect and speculate deeply on the human mind and something-other-than-human as I consider myself an operant among all other human and non-human operants on the Earth. I explore the relationship between things themselves and the way that our mind projects meanings onto things. I take objects back in question, revealing their irreducible qualities beyond our comprehension. I consider the Earth as a living organism that has passions, emotions and agencies — a dynamic entity in a constant state of flux. Borrowing from Bruno Latour, my practice tunes to the idea of "Gaia" — our relationship with other things on Terra. I often present man-made objects, natural objects, scientific experiments and poems together.
LUCIA NHAMO: I am interested in the counter-monument as a material and conceptual strategy of political subversion. Born and raised in Zimbabwe, I draw on my own evolving experience of citizenship as one of the main influences in my work. The counter-monument becomes a way to anchor myself in the places and issues that are of importance to me, without becoming completely disillusioned. My thesis project, Free Fall, chronicles the trajectory of the Zimbabwe Dollar, a currency spectacular in its demise a d in its afterlife as a profitable collectors item. It is an investigation of what the currency and the threat of its return have come to symbolize within a transnational web of current affairs, financial systems and personal narratives.
###
Above is a piece from Rafael Abreu-Canedo, who says "my work is deeply tied to my own body and being."