June 12, 2015
CMU Featured During White House "Week of Making"
By
Abby Simmons
/ 412-268-4290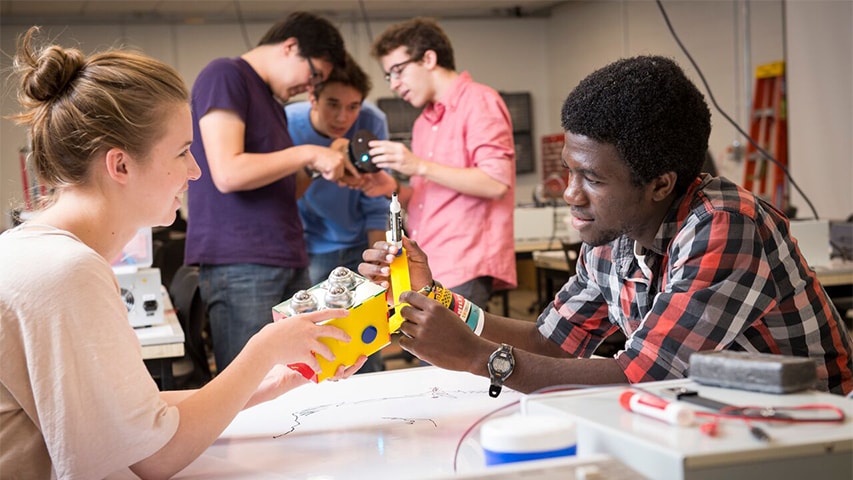 Responding to President Obama's 2014 call to action to create a "Nation of Makers," Carnegie Mellon University has put Maker education at the heart of its strategies to enhance student experiences in creativity, technology, culture and entrepreneurship.
As part of the White House's first Week of Making, June 12–18, CMU is releasing a national trend report on Making in higher education, and students and faculty are showcasing their work at the National Maker Faire in Washington, D.C.
The university's deep roots in the Maker culture stem from its founding as a technical trade school for the children of steelworkers, and work by Lee Weiss of CMU's Robotics Institute in the 1990s laid the foundation for modern 3-D printing technology.
Making in Higher Education Report
CMU researchers, in partnership with the MakeSchools Alliance, developed the State of Making in Higher Education report to explore institutional perspectives on and support for the Maker culture on American campuses and in their surrounding communities. They also examined the new technical, instructional and organizational challenges institutions face in embracing Making on their campuses.
"Making has become synonymous with 'tinkering,' but it also can be considered a rigorous instructional or research approach. The MakeSchools Alliance is addressing this perceptual issue by articulating the role, scope and potential of Making in higher education," said Daragh Byrne, report co-author and faculty member in CMU's School of Architecture and IDeATe Network.
Founded in fall 2014, the MakeSchools Alliance represents 40 universities, community colleges, art and design schools dedicated to promoting Maker education and empowering a new generation of Makers.
The alliance will name the winners of the inaugural MakeSchools Student Competition, sponsored by Dremel, during the National Maker Faire on Saturday, June 13. Students from member institutions were invited to submit independent or collaborative projects completed within the last year that address the question, "How are you making impact on your campus, in your community or in the world with Making?" The top prize is a Maker package featuring a Dremel 3-D Idea Building printer.
National Maker Faire
CMU students and faculty have been invited to showcase their projects at the National Maker Faire, June 12–13, at the University of the District of Columbia. They join Makers from across the country and representatives from 10 federal agencies, including the Department of Education, the National Science Foundation, the Small Business Administration and NASA, in celebrating the creativity and diversity of inventors, tinkerers, entrepreneurs and innovators.
Mechanical engineering doctoral student and teaching assistant Zachary Francis will discuss how students enrolled in CMU's Additive Manufacturing for Engineers course learn about the process of additive manufacturing, also known as 3-D printing, and show examples of products students created and sold online. In addition, students from the Integrated Innovation Institute will demonstrate their portable, heated shelters that provide the homeless a new and easy way to stay warm in the winter.
Byrne will represent CMU at the MakeSchools Alliance booth, and faculty members Beatrice Dias and Illah Nourbakhsh will showcase projects representative of the CREATE Lab's new "Make for Humanity" campaign at a booth sponsored by Infosys. Nourbakhsh will deliver a talk about the campaign at 3:30 p.m., Friday, June 12.
Continuing Commitments
Higher education institutions submitted one-year updates to the White House Office of Science and Technology Policy on their commitments to developing new educational opportunities, expanding infrastructure and participating in regional efforts to create a vibrant Maker ecosystem. CMU shared milestones from the 2014-2015 academic year and ongoing efforts, such as:
The launch of the Integrative Design, Arts and Technology (IDeATe) Network, which now offers eight interdisciplinary minors and concentrations that focus on learning through collaborative Maker experiences in 30 studio-based courses at the new IDeATEe@Hunt facility.
The construction of a 12,600 square-foot nanofabrication space in the new Sherman and Joyce Bowie Scott Hall.
The creation of a Learning Media Design Center, which partners with Pittsburgh's Remake Learning Council to integrate neighborhood, school, library, TechShop and museum initiatives with CMU's research and educational offerings.
Continuing support for the New App for Making It In America's apprenticeship program at TechShop. The U.S. Department of Labor-funded workforce development initiative is designed to retrain people in Western Pennsylvania who have recently lost a job for careers in digital making and manufacturing.
See the White House's update on commitments CMU and higher education institutions around the country have made to President Obama's Nation of Makers initiative.