June 01, 2015
Backstage Education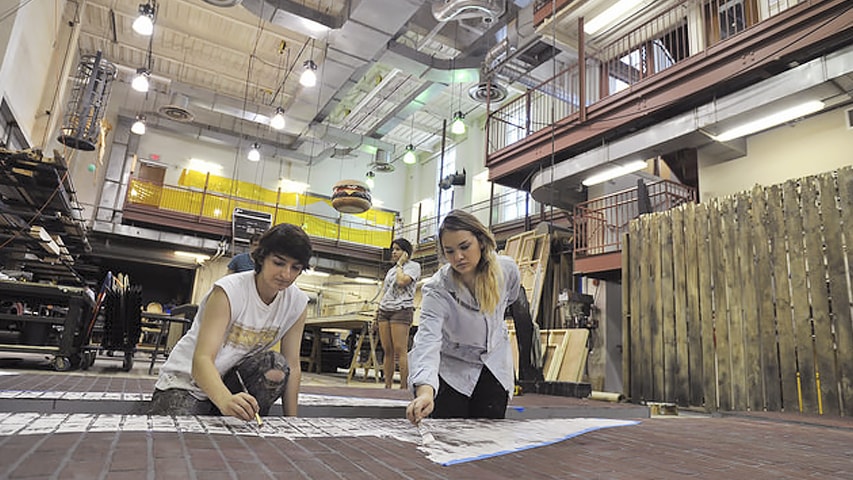 Center stage and close-ups are just two career paths for students who attend Carnegie Mellon's School of Drama. Countless opportunities exist for talented graduates who become experienced behind-the-scenes professionals whose work is vital to the success of any production on stage or screen.
In the Production Technology Management (PTM) Option, hands-on training begins at CMU almost from day one, as students learn from experienced professors how to design and fabricate sets record music and balance a production's budget as they prepare for careers in the theater and film industries.
The School of Drama's conservatory program provides a rigorous academic experience that helps ensure students have a solid background in the skills needed to work in a variety of positions.
Undergraduate PTM students follow a curriculum similar to that of a graduate program, enabling them to achieve a higher level of skill and start employment at more advanced level, said Joe Pino, an associate professor of sound design.
"In terms of being an artist, you need to have knowledge of the world around you but, at the same time, you need to have technical skills," Pino said. "Our graduates end up all over the United Stages doing all kinds of work in the entertainment industry, not just in theater in NYC or in film in LA. Chicago, Las Vegas, Philadelphia, San Francisco, Seattle, Atlanta, Houston, Boston — you can't go anywhere and not run into a CMU alumnus."
Kevin Hines, an associate teaching professor of production technology management, has taught at Carnegie Mellon since 1998.
A technical designer and consultant for Broadway and national touring productions, Hines started in college at Binghamton University as a mechanical engineering major, but he soon discovered a deep interest in both technical theatre and teaching, which eventually led to him earning an MFA from the Yale Drama School.
"My first job out of college was working at Binghamton, teaching students how to build scenery, and I found interaction with college-aged students very rewarding," Hines said. "I wanted to teach, which is what led me to go to Yale — and my eyes were opened to a whole new range of possibilities. We studied structural and mechanical design, fabrication in not only wood, but steel, plastics, aluminum and other materials, including machining, welding, and other more advanced processes. I learned how a training in technical theater could be so much more than how to build flats and platforms."
"We teach the traditional ways of doing things, but we teach the how and why, too."
— Kevin Hines
Using that philosophy as the basis for his own method of teaching, Hines helped to craft Carnegie Mellon's PTM program into an individualized educational experience. Close working relationships with professors provides students with a customized approach to learning. Hines doesn't just teach students how to build sets; he also explains the reasoning behind each of the steps in the process.
"You can't learn everything you might need to know in the theater in four years, but we're always trying to teach them something that hasn't been done before," Hines said. "We teach the traditional ways of doing things, but we teach the how and why, too."
Graduates are reaping the benefits of the program. Many find careers in Pittsburgh regional theaters, in New York City and in the commercial theater industry. Some become architectural firm consultants who help to realize how a building can function optimally. Still others work in live arts management, illustration or serve as accountants who manage production budgets.
One established professional is Michael Goglia (A'01), head of production for The Scenic Route in the Los Angeles area. The Scenic Route is a production resource company that provides full-range services on a global basis to clients in various industries. From concept design to construction to installation, the company manages projects for trade shows/exhibits, live events and theater production, film and TV, and the government — among others. Their client list is an impressive roster, featuring organizations like MTV, Harrah's, Disney, the U.S. Army and Coca-Cola.
Goglia joined The Scenic Route in 2001 and found his training at CMU to be of great benefit.
"I still use the lessons learned from Kevin and CMU every day, 15 years later," he said. "As we interview new employees, CMU alumni are always a step ahead of the rest."
Hines' colleague in the School of Drama, Joe Pino, covers the sound design side of instruction.
Pino began teaching at Carnegie Mellon in 1999. Following involvement in theater during high school, he graduated from Indiana University of Pennsylvania, majoring in theater arts, and found career paths that didn't require being on stage or in front of the camera. He earned his MFA in directing from the University of Virginia and realized he enjoyed focusing on the sound components of a show most.
"Sound design is part of entertainment design, and it's pretty much any part of entertainment that has an aural component," Pino said. "You're responsible for sonic content in the same way that costume designers and scene designers are responsible for visual content, and it can be anything from recording music to designing sound systems to mic-ing actors."
The students in the PTM program are immersed in classwork and work on shows. The experience provides insight on how to balance professional projects for multiple clients at once.
Regardless of their curriculum track while at CMU, these dedicated students are stars in their own right within the industries they choose.
Photo: At left, Lindsay Coda. At right, Lucy Petters. Background: Jacquelyn Guttierrez.