June 07, 2015
Big Night on Broadway

Corey Cott (A'12) (center) performs in "Gigi"

Carnegie Mellon University was center stage at the 69th Annual Tony Awards telecast.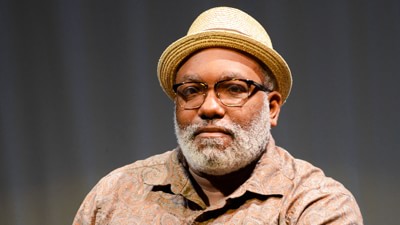 Corey Mitchell
Not only did the Tony Awards® and Carnegie Mellon announce Corey Mitchell, theater arts teacher at the Northwest School of the Arts in Charlotte, N.C., as the winner of the inaugural "Excellence in Theatre Education Award," but CMU alumni came away with awards as well.
"Theater education is the linchpin to every other subject," Mitchell said. "It teaches skills that will live with you forever."
During the live broadcast on CBS, CMU alumnus, Joe Manganiello (A'04), discussed the inaugural award and congratulated Mitchell at his seat in the audience. Manganiello shared that his high school drama teacher, Cindy Shreiner, talked him into trying out for "Oklahoma!" and changed the trajectory of his life. He also interviewed fellow CMU alumna Sutton Foster (A'92,'93), who mentioned her teacher Rick Bodick.
"We never forget the names of people who are there to give us inspiration and guide us," Manganiello said.
The Education Award special honor recognizes a K-12 theatre educator in the U.S. who has demonstrated monumental impact on the lives of students and who embodies the highest standards of the profession. More than 4,000 applications were received for this year's educator award.
A panel of judges comprising representatives of the American Theatre Wing, The Broadway League, Carnegie Mellon and other leaders from the theatre industry selected the finalists and winner. CMU alumna Judith Light (A'70), a Tony Award-winning actress, and CMU School of Drama Head Peter Cooke were two of the six who served on the judging panel.
"In light of CMU's rich history of producing Tony Award-winning talent, Carnegie Mellon is proud to partner with the Tonys in celebrating arts education with this first-ever honor for theatre teachers," said CMU President Subra Suresh. "The importance of arts education and its impact on the human condition cannot be overstated, and we extend our best wishes to all the nominees of this year's Tony Awards."

Carnegie Mellon is the first, exclusive higher education partner of the Tony Awards. CMU's School of Drama is the oldest drama degree-granting program in the United States and celebrated its centennial in 2014. Recognized as an international leader in the arts and technology, CMU's Drama School consistently ranks as one of the world's best and has produced hundreds of Tony nominees, and its alumni have won 41 awards to date.

In addition to recognizing education, the CMU community played a broader role in Broadway's biggest night.

Borle, Schwartz Honored by Tonys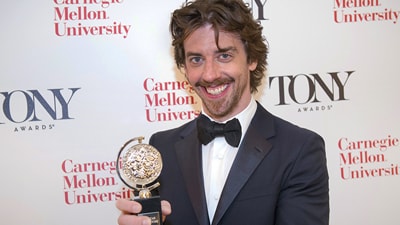 Alumnus Christian Borle (A'95) won the Tony Award for best performance by a featured actor in a musical for "Something Rotten!"
He previously won for his performance as Black Stache in 2012's "Peter and the Starcatcher." Borle said after his win that teachers inspired him.
"I had great teachers. Mr. Tahlem, my seventh grade teacher, made me fall in love with musicals," Borle said.
"This is a terrific recognition for Christian's hard work and dedication to his role in 'Something Rotten!' It is just one of his many truly transformational and remarkable performances in film, television and on stage," said Dan Martin, dean of CMU's College of Fine Arts. "We are very proud of Christian, as a CMU alumnus. He is an exemplary graduate and deserves this recognition."
Stephen Schwartz (A'68) received this year's Isabelle Stevenson Tony Award, which is presented annually to a member of the theatre community who has made a substantial contribution of volunteered time and effort on behalf of one or more humanitarian, social service or charitable organizations. Schwartz is best known for his music and lyrics for such shows as "Godspell," "Pippin" and "Wicked."
Borle along with two other CMU alumni were a part of the live performances during the awards show. Corey Cott (A'12), the male lead of "Gigi," sang as did Michelle Veintimilla (A'14), who plays the young Chita Rivera in "The Visit."

Award presenters for the night included Foster and Light. Josh Groban, who also attended CMU, performed the Tony Awards In Memoriam.
Related:
Read press release