January 12, 2015
Nominate Your Theatre Educator
Christian Borle. Cherry Jones. Judith Light. Billy Porter. These CMU alumni and Tony Award winners all have recognized teachers who helped set the stage for their theatrical careers.

Now it's your turn.

Nominations are being accepted online for K–12 theatre educators to receive the inaugural Excellence in Theatre Education Award presented by Carnegie Mellon University and the Tony Awards.

Anyone — from students and school administrators, to friends, neighbors and family — can submit a worthy teacher for consideration. The deadline for submissions is March 31.

"This new award underscores our longstanding commitment to theatre education," said Heather Hitchens, executive director of the American Theatre Wing, and Charlotte St. Martin, executive director of The Broadway League. "Innumerable Tony Award winners have thanked their teachers during acceptance speeches. Starting this year, we're putting educators and their essential roles at center stage."

Nominees must be current teachers at an accredited K–12 institution or recognized community theatre organization anywhere in the United States. He or she must be a teacher whose position is dedicated to and/or includes aspects of theatre education. For detailed criteria or to nominate a teacher, visit tonyawards.com/educatoraward.

A panel of judges comprised of the American Theatre Wing, The Broadway League, Carnegie Mellon and other leaders from the theatre industry will select the finalists and winner. CMU is the first, exclusive higher education partner of the Tony Awards.

"At Carnegie Mellon, I have the privilege of seeing education transform the lives of talented young people every day, and then I watch as those students transform the world," said Dan Martin, dean of CMU's College of Fine Arts.

CMU has produced hundreds of Tony nominees and 34 Tony Award winners.

During last year's live Tony Awards telecast, Zachary Quinto (A'99) and Matt Bomer (A'00) announced the upcoming educator award initiative.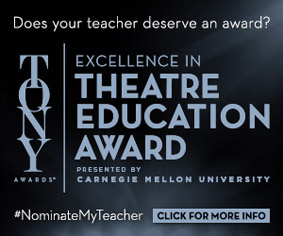 But it's not just at the Tonys where alumni are talking up teachers. During a 2012 talk, Porter (A'91) mentioned two high school teachers who encouraged him to stay in school rather than move to New York at 17.

"You need to get some training before you get out there in the real world," Porter said. The training paid off with a Tony Award for his role in "Kinky Boots."

Light (A'70) is one of many Tony Award winning CMU alumni who shared a little about educators important to them when the CMU's partnership with the Tony Awards was announced last year.

"All through growing up, I had these teachers who were very open to supporting me in wanting to be an actress," Light said. "I knew when I was really young. They were there for me in so many different ways."

Teacher finalists will be announced in the spring and each will receive an honorarium. A single winner will be selected to receive the Excellence in Theatre Education Award on stage during the 69th Annual Tony Awards CBS telecast at 8 p.m. (ET), Sunday, June 7, at Radio City Music Hall.
Related Links
Press Release

CMU & the Tony Awards

Excellence in Theatre Education Award Nomination

CMU and the Tony Awards YouTube Playlist

2012 Tony Winners