January 12, 2015
Young Pittsburgh Writers To Be Honored at Carnegie Mellon's Martin Luther King, Jr. Writing Awards Ceremony, Jan. 19
Poetry and Prose Pieces Reflect Students' Personal Experiences With Race and Discrimination
By Shilo Rea / 412-268-6094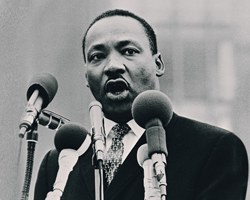 Fourteen Pittsburgh-area high school and college students will be honored for their poetry and prose at the 2015 Carnegie Mellon University Martin Luther King, Jr. Writing Awards at 4:30 p.m., Jan. 19 in CMU's Rangos Hall.
Designed to encourage local students to reflect on their personal experiences with race and discrimination, the writing awards — now in their 16th year — is a mainstay of CMU's MLK Day celebration, which this year is expanding to include new events and programs throughout January and February.
The awards ceremony will feature the student winners reading their award-winning pieces and musical performances from the School of Drama and various multicultural student performance groups.
Jim Daniels, the Thomas Stockham Baker University Professor of English who founded and directs the writing awards program, was thoroughly impressed with the quality of this year's entries, which consisted of 114 high school and 16 college submissions.
"The winners this year are acutely aware of difference and how it manifests itself in their daily lives, ranging from the intimacy of family life to the broader sweep of global issues such as immigration and assimilation," Daniels said.
Highlights from the 2015 winners include:
Pittsburgh CAPA student Alexis Payne - the 2014 second place high school poetry winner - is a two-time winner this year; she won first place in poetry for "Strange Fruit" and second place in prose for "Being Human."
Taylor Allderdice High School Student Amma Ababio's first-place prose piece, "The Ink That Gives The White Page A Meaning," explores identity and assimilation as she emigrated from her birthplace of the Ashanti region in Ghana to the United States.
The 2015 Carnegie Mellon University Martin Luther King, Jr. Writing Award Winners
High School Poetry
First Place: Alexis Payne, CAPA, "Strange Fruit"
Second Place: Isaac Monroe, CAPA, "I Have It Hard (That's A Lie)"
Third Place: Siraji Hassan, Allderdice, "I Am Different" and Drew Praskovich, CAPA, "Angelic"
      
College Poetry
First Place: Michael Mingo, CMU, "Rural Vandalism"
Second Place: Siriana Abboud, CMU, "To Lebanon"
Third Place: Joshua Brown, CMU, "When I Was Born, I Came Out Swinging"
High School Prose
First Place: Amma Ababio, Allderdice, "The Ink That Give The White Page A Meaning"
Second Place: Alexis Payne, CAPA, "Being Human"
Third Place: Amanda Talbot, CAPA, "Grandmothers Have Favorites" and Harrison Smith, Allderdice, "Identifying Myself Without The Restrictions of Race"
College Prose:
First Place: Sophie Rose Zucker, CMU, "The Washing"
Second Place: "Ellie L."/G.Liu, CMU, "On Language"
Third Place: Michelle Mathew, CMU, "Fair and Lovely"     

Read the 2015 winning entries.
The writing awards ceremony is free and open to the public. RSVP to attend.
CMU's Department of English, Division of Student Affairs and the Office of the President sponsor the awards. Cash prizes will be presented to the student winters.
Additional CMU Martin Luther King, Jr. activities will include a Simon Initiative Distinguished Lecture by Freeman Hrabowski, president of the University of Maryland, Baltimore County on Monday, Jan 26. Hrabowski's talk will focus on how he and his faculty colleagues have drawn national acclaim for improving learning outcomes in STEM fields, specifically for minority students. Events also will address diversity issues at global, national and local levels, such as "Revising Haiti: Five Years Later" events from Jan. 12 - Feb. 4; a Feb. 5 forum on racial profiling; and "I, Too, Am Carnegie Mellon," a Feb. 6 panel on African-American student experiences at CMU.
For more information, visit http://www.cmu.edu/mlk.
      
###
The awards program is a mainstay of CMU's Martin Luther King Jr. (pictued above) Day celebration, which this year is expanding to include new events and programs throughout January and February.