January 14, 2015
Carnegie Mellon's Miller Gallery Opens "From the Edge" Exhibition, Featuring Performance Design Depicting Social and Political Issues
By Katie Ellis and Pam Wigley / 412-268-1047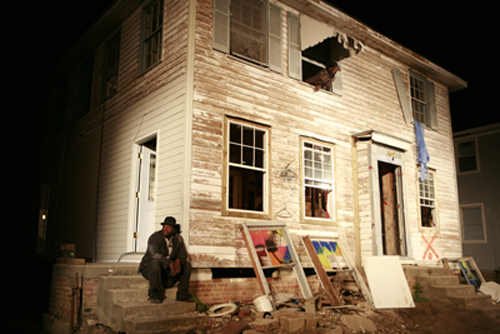 In partnership with Carnegie Mellon University's School of Drama, the Miller Gallery on the CMU campus opens "From the Edge," a provocative collection of performance design pieces reflecting society and politics during the Bush and Obama administrations.
The exhibit, curated by Artistic Director and Lead Curator Susan Tsu, a professor of costume design in the School of Drama, will be unveiled at an opening reception from 6 to 8 p.m., Friday, Jan. 16. The reception and exhibition, which runs through March 1, are free and open to the public.
"From the Edge" reflects works from 2007 to 2011 and was first shown at the Prague Quadrennial in 2011. The curatorial team, led by Tsu, asked artists to submit works that were associated with social and political issues. Of the 370 works of art submitted, just 37 were chosen to become a part of the exhibit.
"From the Edge" tackles the foremost issues and events from this era, including 9/11, Hurricane Katrina, health care, moral questions brought to the fore by war and fundamentalist beliefs, and issues relating to views on race in society. This exhibit evokes a range of emotions, from celebratory to somber.
"I'm hoping people come and stop to read the labels [under the individual pieces], and that they get to know the stories behind them," Tsu said. "People who don't like theater might think it's stuffy, but theater is inclusive enough that it can touch a wide range of people."
For example, one piece in the exhibition is a photo of a live performance of artist Paul Chan's production of "Waiting for Godot" on the streets of New Orleans a year after Katrina, when Chan witnessed firsthand the devastation of the Lower Ninth Ward as city residents were still waiting for help from FEMA. "Godot" premiered on Friday, Nov. 2, 2007. Another series of images was inspired by the wars in Iraq and Afghanistan.
Other photographs in the exhibition feature more lighthearted fare, such as scenes from drag performer Joey Arias' show, "Arias with a Twist," with set and costumes by French fashion designer Thierry Mugler, and scenes from "The Wiz," performed by Denver's Physically Handicapped Actors and Musical Artists League (PHAMALy).
Tsu said "From the Edge" goes beyond making a social or political statement; the exhibit also is about unearthing the meaning behind the images. The pieces depicting war show how a soldier can come home from a tour of duty a changed person or, in the case of PHAMALy's "The Wiz," how performers with a disability can have just as strong of an impact on an audience as performers without disabilities.
"We want this exhibit to elicit curiosity," Tsu said. "We're hoping for a broad audience of theatre colleagues and people in the tri-state area, and we're hoping for a strong student presence."
As the first new exhibit of 2015, "From the Edge" is what Tsu calls a collection of "challenging, irreverent work."  Hoping to break down stereotypes, the exhibit will make observers look beyond the glamour typically associated with American theater to understand the grit and seriousness behind the best examples of performance design showing social and political issues of today.
      
###
The exhibition includes a photo (above) of a live performance of artist Paul Chan's production of "Waiting for Godot" on the streets of New Orleans a year after Katrina. Photo by Lee Celano, The New York Times.