February 10, 2015
Kloehn, Higher Education Communications Leader, Takes New Position as CMU Vice President for Marketing and Communications
By Ken Walters / 412-268-1151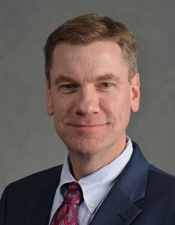 Steve Kloehn, associate vice president for news and public affairs at the University of Chicago, has been named vice president for Marketing and Communications at Carnegie Mellon University.
In this new position, he will lead the university's efforts in expanding the global visibility of CMU and strategically highlighting the university's role in transforming lives and shaping the world through innovative, top-tier academics and world-renowned research.
"Steve brings to this role extensive experience in spearheading strategic integrated communications and marketing campaigns that have led to raising national and global visibility," said Subra Suresh, president of Carnegie Mellon. "His reputation as a hands-on, innovative leader and communicator make him a perfect fit for this new role and CMU."
Kloehn will oversee the university's Marketing and Communications team, which includes media relations, internal communications, publications, integrated marketing, digital strategy and creative services.
"CMU has a long history of innovation that changes lives and enriches the world," Kloehn said. "As a communicator, I am excited to have the opportunity to tell the CMU story. I look forward to working in partnership with CMU's scholars, students and alumni around the globe to shine a light on their outstanding and far-reaching work. I am honored, too, to join CMU's outstanding leadership team and its talented staff."
Kloehn has served more than six years in his current position. Prior to joining the University of Chicago in 2008 as director of the news office, Kloehn was a writer, columnist and editor for 21 years at newspapers in New England and at the Chicago Tribune, where he became the deputy metropolitan editor for Sunday and Enterprise.
He holds a bachelor's degree in English from Princeton University.
Kloehn will begin his new position on April 7.
###