February 27, 2015
Carnegie Mellon Receives Three Gifts Totaling $17 Million for Tepper Quad, Presidential Fellowships and Scholarships
By
Ken Walters
/ 412-268-1151 / and
Abby Simmons
/ 412-268-4290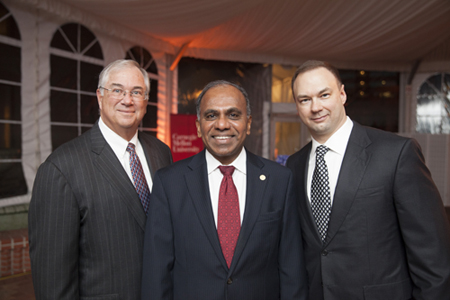 Carnegie Mellon University has received three gifts for a total of $17 million this week to support the David A. Tepper Quadrangle and the Presidential Fellowships and Scholarships initiative.
CMU trustee James E. Rohr, along with his wife, Sharon, as well as Legendary Entertainment, whose Founder and Chairman Thomas Tull is a trustee, have made gifts to support the Tepper Quad. Alumnus Wallace Sadauskas and the estate of his late partner, Patricia Chotiner Traylor, have provided a gift to support Presidential Fellowships and Scholarships.
"The university is committed to attracting and supporting outstanding students from around the world, and offering them an innovative education that takes advantage of CMU's path-breaking research and practice across disciplines. These gifts help fulfill this fundamental vision," said CMU President Subra Suresh.
"We are very grateful to Jim and Sharon Rohr, Thomas and Alba Tull, and Wallace Sadauskas for their generosity. The Rohrs' and Tulls' support for the Tepper Quad and Mr. Sadauskas' commitment to Presidential Scholarships directly address top university priorities that will expand CMU's regional and global impact."
The gifts were announced Thursday night at a special event in California, "Integrated Intelligence: San Francisco and Beyond," at which trustees and alumni heard Suresh, students, faculty, trustees and alumni talk about pursuing inquiry and innovation at the boundaries of human and machine intelligence. The event also raised funds for Presidential Fellowships and Scholarships, which provide direct financial support to graduate and undergraduate students.
The Tepper Quad represents a new academic vision at CMU aimed at connecting research, curricula and initiatives across the university's schools and colleges. The 4.5-acre site will be the centerpiece of the university's new north campus, and its initial project will be the new campus gateway and home of the Tepper School of Business. The Tepper Quad's creation was made possible by a lead gift of $67 million from the charitable foundation of CMU alumnus and investor David Tepper.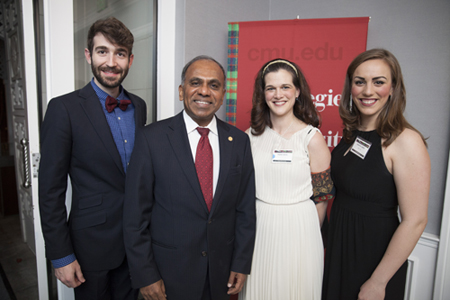 CMU's Presidential Fellowships and Scholarships initiative seeks to attract the best and the brightest students globally, as well as attract and retain the faculty who mentor them. Individual donors, alumni, trustees, faculty and philanthropic organizations have made commitments for endowed Presidential Fellowships for graduate students and Presidential Scholarships for undergraduate students.
Rohr, chairman-elect of CMU's board of trustees, is the retired executive chairman and former CEO of the PNC Financial Services Group. He oversaw PNC's expansion from an institution that served customers primarily in two states to one of the largest regional banks in the country. Rohr is a strong supporter of civic, cultural and educational institutions around Pittsburgh, and he has served on various boards that enhance the economic and cultural vibrancy of the region. He also played a key role in establishing the PNC Center for Financial Services Innovation and a PNC Professorship in Finance at CMU.
Legendary Entertainment is a leading media company with film (Legendary Pictures), television and digital (Legendary Television and Digital Media) and comics (Legendary Comics) divisions dedicated to owning, producing and delivering content to mainstream audiences with a targeted focus on the powerful fandom demographic. Through complete or joint ownership, Legendary has built a library of marquee media properties and has established itself as a trusted brand which consistently delivers high-quality, commercial entertainment including some of the world's most popular intellectual property. In aggregate, Legendary Pictures-associated productions have realized grosses of more than $10 billion worldwide at the box office.
Sadauskas, a Pittsburgh native, earned a bachelor's degree in print management from Carnegie Institute of Technology, now CMU, in 1943, and an MBA from New York University in 1956. He worked for Union Carbide Corp. in New York for 37 years, beginning his career as a marketing development manager and retiring as manager of print and literature distribution. Sadauskas published two books of his own, "The Book of Business Forms" and "Distilled Gems of Amusement: The Witty Things You Can Say in Spanish."
###
Pictured in the top photo are (l-r) CMU Chairman-Elect James E. Rohr, President Subra Suresh and Trustee Thomas Tull after the new gifts were announced at the San Francisco event.
Pictured above are (l-r) Daniel Arnaldos Navarro (A'15), CMU President Subra Suresh, Vocal Coach and Chamber Music Coordinator Karen R. Verm and Joanna M. Latini (A'15). Navarro and Latini, who are studying music at CMU, performed at the San Francisco event.