February 13, 2015
"The Wiz" Takes Center Stage at CMU's School of Drama Spring Showcase
By Erin Keane Scott / 412-268-2068 / and Pam Wigley / 412-268-1047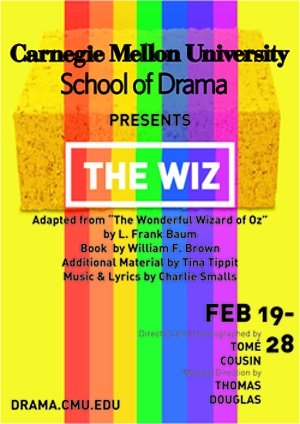 Carnegie Mellon University's School of Drama invites you to "ease on down the road" to the Philip Chosky Theater for the colorful, media-rich production of "The Wiz," adapted from L. Frank Baum's beloved classic, "The Wonderful Wizard of Oz."
The Wiz opens at 8 p.m., Thursday, Feb. 19 and runs through Feb. 28. Performances will be directed and choreographed by Assistant Professor of Dance Tomé Cousin, with musical direction by Professor Thomas Douglas.
"The Wiz is a soaring and fantastical work full of infectious music, breathtaking dance and technical and design wizardry," said Peter Cooke, head of the School of Drama. "We hope theater-goers will come and enjoy our diverse cast's interpretations of these iconic characters in a joyous celebration of theatrical showmanship."
The Wiz takes inspiration from rock n' roll, R&B, gospel and soul music to help Dorothy make the journey to the Emerald City. In 1975, when The Wiz debuted on Broadway, the musical's success was largely due to the parallels it was able to draw between Baum's Kansas and the urban African-American experience. Today, messages in the musical transcend race and speak to ideas of inclusion and the celebration of individuality.
"To celebrate The Wiz's 50th anniversary, we've created a dynamic, colorful production for the 21st century," Cousin said.
To purchase tickets, call the box office at 412-268-2407 between noon and 5 p.m., Monday through Friday, or visit http://www.drama.cmu.edu/50/box-office. Performances will take place in the Philip Chosky Theater at CMU's Purnell Center for the Arts. For general information about the School of Drama, visit www.drama.cmu.edu.
Note: On Tuesday, Feb. 24, dramaturg Vanessa Frank will host a talkback with the audience, cast and crew after the performance. The discussion will explain the play's background and comment on the research and development of the storyline.
The dramaturgs also are available to discuss the plays with classes, student groups and public organizations. Contact Wendy Arons, dramaturgy option coordinator, at warons@andrew.cmu.edu to schedule a session with a dramaturg.
###