February 19, 2015
Biomedical Engineering Department To Create Heart Science Program
By Daniel Tkacik / 412-268-1187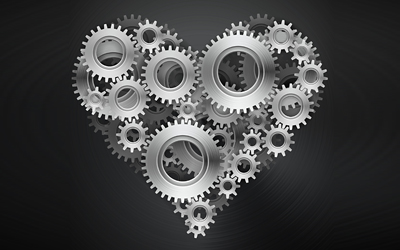 Carnegie Mellon University's Department of Biomedical Engineering has been awarded a grant from the American Heart Association to create a program to train undergraduate students to apply their biomedical engineering education to new technologies for clinical cardiovascular medicine.
The department will begin accepting applications at the end of February, and the first students will begin the program in May 2015.
"The hope is that this initial experience will lead students on a career path in biomedical engineering," said Keith Cook, associate professor of biomedical engineering who is co-leading the initiative with Conrad Zapanta, associate head of the department. "Our biomedical engineering department has a very strong core in cardiovascular research, so we sensed an opportunity with this program."
Accepted students will spend 10 weeks working with faculty on a research project in a cardiovascular area of biomedical engineering, such as myocardial tissue engineering, artificial hearts, cardiac function modeling and imaging, or cardiovascular biomaterials. In addition to students' experience in a laboratory setting, students will shadow cardiovascular clinicians at Allegheny General Hospital for one day every two weeks.
"In order for students to be effective researchers in this area, the students should understand cardiovascular medicine in general," Cook said. "It is important that they see the application of clinical cardiovascular medicine, from imaging or catheter-based diagnosis to pharmacological or surgical treatment."
Exposing biomedical engineering students to cardiovascular magnetic resonance imaging (MRI) was an integral part of the decision to create the program, said cardiologist Robert Biederman, who directs the cardiovascular MRI program at Allegheny General Hospital.
"Many of our young students that spend the summer with us go on to medical school and become independent clinicians trained with unique understandings of how to perform and interpret medical research," Biederman said.
Most existing programs of this type originate from medical schools, where there is a general focus on cardiovascular medicine.
"This program also focuses on cardiovascular medicine," Cook said. "But it's unique in that it focuses on the application of biomedical engineering to cardiovascular medicine."
###