December 01, 2015
The Tech Behind Tory Burch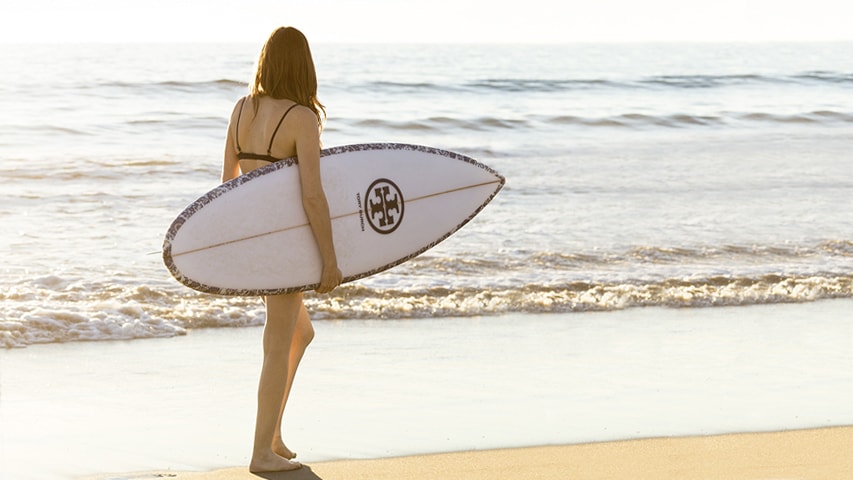 Photo by Alden Wallace

Surfboards, unique prints and the iconic Chateau Marmont — it's Los Angeles meets Marrakech. As art director and senior web designer for global luxury fashion house Tory Burch, Abby (Lynn) Ward (A 2006) brings collections like 'Resort 2014' to digital life.
"The digital space is so exciting and always evolving, an incredible experience," said Ward of the role that varies from designing custom surfboards and art directing photoshoots to media positioning and designing daily editorial content.
The Carnegie Mellon communication design alumna secured her first post-graduate position at InStyle.com after contacting CMU alumnus John Korpics (A 1985), who was the magazine's creative director at the time.
"It was that one exchange that basically set the course of my entire career," she said.   
Two years later, Ward joined Tory Burch as the company's first web designer. She was the 104th employee in a company that now has more than 3,000.
She helped create the Tory Daily blog and app, a full toryburch.com and Tory Daily site redesign in 2012 and spearheaded another Tory Daily site redesign in 2014. (International sites from the U.K. to Japan are based on the U.S. design.)
Ward came to CMU as a freshman with a passion for photography and a desire for a broad university experience.
"Carnegie Mellon's School of Design could give me the tools and skills to apply my love of photography in fields like marketing, editorial, advertising," she explained.
"My first visit to CMU was early on a Sunday morning and the freshmen studio was packed," she added. "It was amazing to see others so passionate and serious about their work. On the ride home I decided to apply early."
She made the right choice, gaining an invaluable interdisciplinary skill set.
"My Carnegie Mellon education really prepared me to combine the creative and the technical, my background is so unique in that sense," she said. "Having the creative vision, designing and photographing, editing, and then coding and optimizing for web — I'm able to see projects through from start to finish."
She also took advantage of CMU business classes, including entrepreneurship.
Ward is particularly grateful for the guidance of faculty mentors, with whom she is still in touch.
"Design professors Charlee Brodsky, Dylan Vitone and Kristin Hughes went above and beyond to help me find my voice and really develop my skills," she said. "They weren't just professors, they were confidants and they inspired me on such a deep, personal level. They truly shaped my college experience."
Brodsky notes how gratifying it is to see Ward's successes.
"Abby brought a unique, creative sensibility to all her design work," Brodsky said. "She was able to meet the challenges of our rigorous program while never losing her expressive voice. She is an individual who was always professional in her attitude toward work recognizing how much fun it was to do something well."
Nearly a decade later, Ward still proudly carries her CMU student ID in her wallet.
"I take such pride in where I went to school," she said. "It is my badge of honor."
Related: