December 29, 2015
Students Helping Students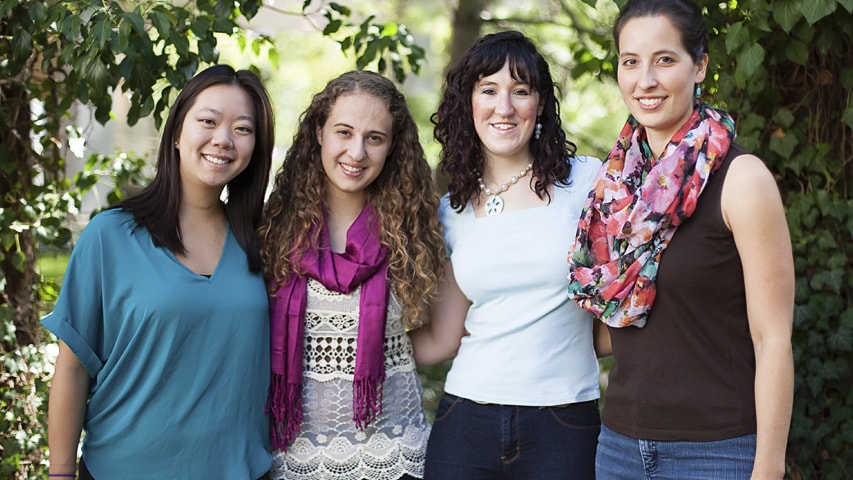 Graduate student Christin Danchi listened to Carnegie Mellon University's School of Music Head Denis Colwell talk at the school's annual convocation ceremony. She focused on one point: He outlined the school's area of greatest need as undergraduate merit aid.
In other words, some students were not able to continue pursuing their dreams of an education within the school because they simply could not afford to do so. An endowed scholarship fund, he said, would be of great benefit to deserving students.
"I expected him to say that we needed millions of dollars to endow a scholarship," Danchi said. "But when he said that it could be done with $50,000, I knew it was a reachable goal."
Danchi left convocation with a purpose: She would start a campaign to raise money so students in need would have the help they needed.
She enlisted assistance from three fellow students who share her passion — Alyssa Wang (A 2016), Laurel Beatty (A 2017) and Katie Russell (A 2015). Together, in what they believe may be a first among School of Music fund-raising efforts, they have created The Heritage Scholarship Campaign, which kicked off at the Sept. 16 concert of the Carnegie Mellon Philharmonic.
With a motto of "Students Helping Students," the campaign aims to endow an undergraduate scholarship for exceptionally talented prospective School of Music students.
Since its launch, the campaign has raised more than $30,000. In early December, CMU's President Subra Suresh agreed to match campaign donations up to the first $50,000. Additionally, Dan Martin, dean of CMU's College of Fine Arts, and Denis Colwell, head of the School of Music, will provide a second match, essentially tripling contributions.
"All students, whether they have benefited from financial aid or are struggling with college loans, have a vested interest in the expense of a college education," Danchi said. "We want to enable the next generation of music students at Carnegie Mellon to pursue their dreams without being hindered by the national student debt crisis."
Wang, who produced a video to highlight the campaign and its benefit to students, said she believes an investment in the futures of talented students goes beyond playing an instrument.
"The thing about studying music is that you never only practice music," she said. "Because of the nature of the art, you also find yourself practicing good communication, discipline, organization, patience and collaboration. You learn how to become a more well-rounded person, someone who can work hard to achieve a goal and collaborate with others to make a performance as good as it can be. There's a reason why kids who play musical instruments often perform well in school and any career they might have in the future. Learning music teaches you life skills."
Danchi, who earned her master's degree of music in violin performance from CMU after obtaining her bachelor's degree in music from the University of North Carolina at Chapel Hill, is now a post-graduate Advanced Music Studies student. She benefitted from scholarship funds as an undergraduate and graduate student and is grateful that others' generosity made it possible for her to pursue her education. She is hopeful that she can do the same for other students, and she wants to inspire people to make a gift, regardless of amount.
"Our objective is to raise the funds to endow this scholarship through the combined efforts of many.  No amount is too large, but neither is any contribution too small.  Every donation brings us closer to our goal," she said.
To encourage donations, the students have created various levels of giving within the campaign, including at the $1,000 level, which entitles donors to a concert in their homes or other venues.
Just as they are committed to making the endowed scholarship happen, these students also are passionate about the music they create.
"People come to hear you play with baggage in their lives," Wang said. "They want to see you and hear you play in order to find some sort of respite from whatever is troubling them. It's our job as musicians to heal them in whatever way we can. There is something so utterly human about classical music."
Donations to The Heritage Scholarship Fund are tax-deductible and can be made on the fund website, at events or by mailing a payment (credit card or check) to: CMU School of Music, 5000 Forbes Avenue, Pittsburgh, PA 15213. For more information, contact the School of Music at 412-268-4921.