December 07, 2015
Miller Gallery's "Mind the Matter" Features Culmination of CMU Design Students' Work
By Margaret Cox / Miller Gallery / 412-268-4754 /
mc94@andrew.cmu.edu

and Pam Wigley / College of Fine Arts / 412-268-1047 /
pwigley@andrew.cmu.edu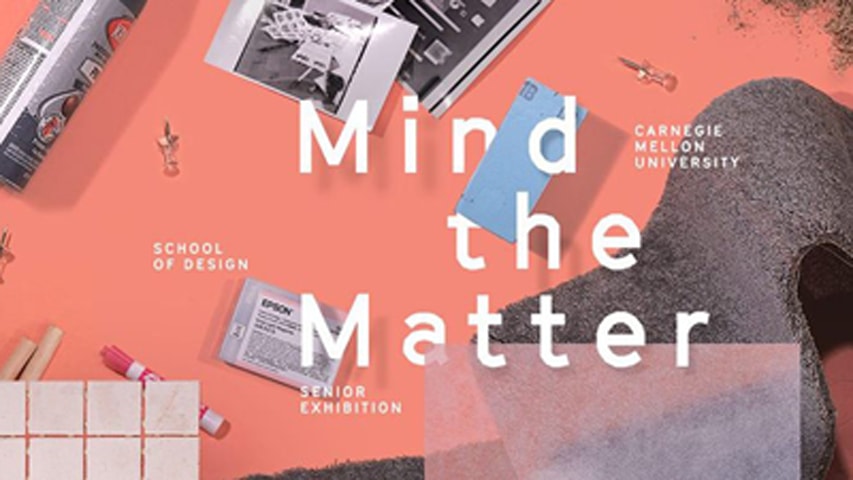 The Miller Gallery and the School of Design at Carnegie Mellon University will jointly present "Mind the Matter: CMU School of Design Senior Exhibition 2015" from Saturday, Dec. 5, through Sunday, Dec 13. A special reception celebrating the featured works is scheduled from 6-8 p.m, Friday, Dec. 11, as part of the College of Fine Arts Winter Festival. The exhibit and reception are free and open to the public.
"We hope you will join the School of Design's seniors as they celebrate and share their accomplishments," said Professor Terry Irwin, head of the School of Design. "The work featured in the show offers insight into the students' evolution over four years of study in which they develop both problem-solving and form-giving skills."
According to the senior class, "Mind the Matter" seemed the perfect description for their work and as a statement for the Class of 2016.
"Mind references what truly matters to us: positively impacting people, uncovering and communicating challenges, and reflecting on perspectives we take for granted. Matter refers to the intent, materiality, and the process of making behind each work. Designing responsibly … asks us to consider the thought processes we use, the materials we choose and, most importantly, the impact our design has in people's lives," the senior class said.
The students whose work will appear in the gallery are: Ben Boesel, Miriam Buchwald, Kristen Chon, Mackenie Dunn, Joshua Eiten, Sam Gao, Lauren Goldstein, Stowe Hammarberg, Gene Hua, Gina Huang, Stephanie Jeong, Irene Joung, Daniel Hyo Kim, Mina Kim, Yoon-ji Kim, Yooyoung Ko, Robyn Lambert, Julia Larrabee, Celina Liao, Lucy Mou, Solomon Ng, Lizzy Nolin, Danae Paparis, Sophie Parrinello, David Power, Zach Schwemler, Ismael Sobek, Jessica Shen, Linny Tan, Sophie Vennix and Andro Zuzul.
Learn more about the exhibition.