December 28, 2015
Pop Art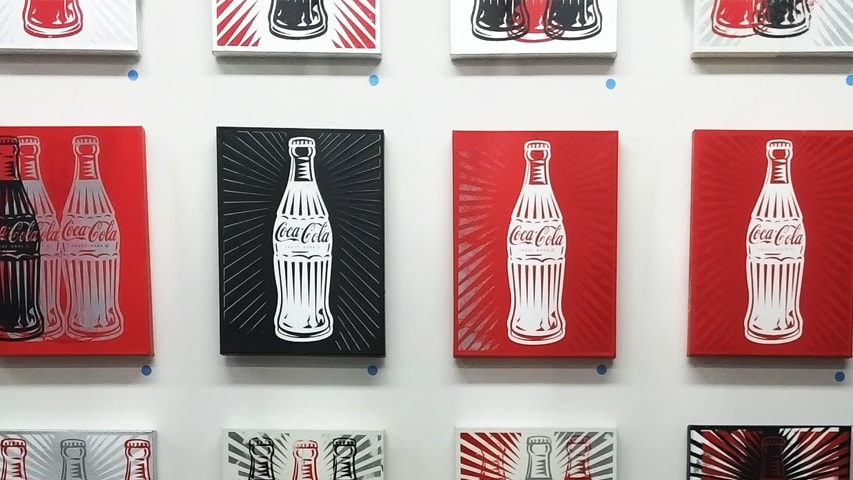 Burton Morris (A 1986), an alumnus from Carnegie Mellon University's School of Design, is the real thing.
Best known for his bold, graphic pop art depictions of modern icons, his latest project takes on the Coke bottle.
"That was a challenge," said Morris on creating 100 different paintings for "Coke 100," which debuted Nov. 19 at Soho Contemporary Art in New York City. "The idea was to go through, one by one, and try to find new ways to interpret the Coke bottle, which is really an American icon."
The works are a mixed-media series of 100 unique Coca-Cola inspired canvases, in honor of the of the iconic 6.5 oz. glass Coca-Cola bottle, which turned 100 years old Nov. 16.

Burton Morris
Morris created the collection on 100 16 x 12 canvases using the primary "Coke colors" of red, silver, black and white. It took him about six months to conceptualize and two months to complete at his Santa Monica, Calif., studio.
The series builds on the tradition of Pop Art masters of the 1960s-70s who took common ideas and objects and transformed them into thought-provoking works of fine art.
Morris' result is a vibrant, energetic and unforgettable collection meant to evoke another CMU alumnus' work: Andy Warhol's 1986 series of Campbell's Soup Box paintings.
"It really is an homage to Andy Warhol," Morris said. "For this series, I channeled Andy and challenged myself by experimenting outside of my typical clean line style, working with spray paint, screen printing and acrylic paint."
"I have never been more excited about a series of paintings than these Coca-Cola bottles created by Burton Morris," said Rick Rounick, owner of Soho Contemporary Art. "We have been selling artwork by Andy Warhol, Roy Lichtenstein, Jean-Michel Basquiat and Keith Haring for over 30 years. I feel fortunate to see Burton Morris' work evolve to the stature of these great artists."
"Coca-Cola is one of the staples of our time," Morris said. "To me it represents family dinners, nights out with friends and classic Americana. It really was a once-in-a-lifetime chance, and I was fortunate to get the opportunity to create this."
Morris, who grew up down the street from Carnegie Mellon University, credits his time at the school for preparing him with the skills needed to tackle interesting problems, like designing 100 unique paintings at once.
"It's an amazing school with a fantastic program," he said. "During the time I was at CMU, I really felt they were doing great things in the area of graphic design and the arts. It was the way [the faculty] taught," he added. "They teach you how to approach and solve a problem, and it can really be applied in any field.
"My work today has so many graphic elements and the thinking behind each of my ideas comes from the instruction I got at Carnegie Mellon."

Morris has produced art and designs for countless notable institutions such as the Academy Awards, the Summer Olympics, the White House and the United Nations.
His artwork is featured in the collections of The Albright-Knox Museum, The Jimmy Carter Center, The Elysee Museum, The United Nations, The International Olympic Museum, The World of Coca-Cola Museum, The Senator John Heinz History Museum and The Academy of Motion Picture Arts & Sciences. In addition, Burton's artwork has helped to raise millions of dollars for charities worldwide.
More than 90 of the Coke paintings have already been sold. "Coke 100" wraps up Dec. 31.

Related: