December 21, 2015
Dean Ramayya Krishnan Honored With 2015 Nayudamma Award
By Shryansh Mehta / 412-268-5492 /
shryansh@andrew.cmu.edu
Ramayya Krishnan, dean of the H. John Heinz III College and the William W. and Ruth F. Cooper Professor of Management Science and Information Systems at Carnegie Mellon University, is the 2015 recipient of the Nayudamma Centre for Development Alternatives' (NCDA) Nayudamma Award.
The NCDA presented the award to Krishnan at a special ceremony on Dec. 21 at his undergraduate alma mater, the Indian Institute of Technology Madras (IIT-Madras) in Chennai, Tamil Nadu, India. Krishnan also delivered the 21st Professor Yelavarthy Nayudamma Memorial Lecture at the ceremony.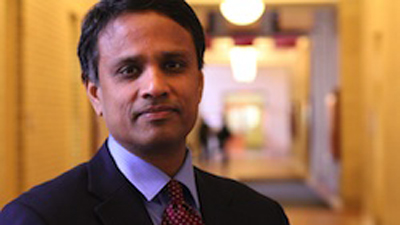 Ramayya Krishnan
The Nayudamma Award honors individuals for their significant contributions around the world in areas of sustainable development. Krishnan is being honored for his research and leadership in making data-driven decisions in key societal domains, including transportation, smart cities and living analytics.
"As a scholar, Krishnan's work on data-driven decision making in cyber physical environments is well known for its multi-disciplinary contributions to the fields of operations research and information systems. This work and that of his colleagues at the intersection of information technology, public policy and management is having a significant impact on organizations in both the public and private sectors via the multiple research centers he has helped establish at the university," said CMU Provost Farnam Jahanian. "As dean of Carnegie Mellon's Heinz College, his work with our faculty exemplifies the university's commitment to advancing knowledge and improving the human condition."
Past recipients of the award include Kandeh Yumkella, former United Nations Under-Secretary-General; T. Nejat Veziroglu, president, International Hydrogen Energy Association; Nandan Nilekani, former CEO of Infosys; Ghauth Jasmon, former vice chancellor, University of Malaya, Kualalumpur; Bernard Amadei, president, Engineers Without Borders; and Anil Kakodkar, former chairman, Atomic Energy Commission.
The award's namesake was born in the Guntur district of Andhra Pradesh, India, in 1922. Professor Nayudamma was an internationally renowned organic chemist, practical technologist and academic leader, as well as the former president of the International Council for Science's Committee on Science and Technology in Developing Countries. He is perhaps best known, however, for dedicating his life to demonstrating how science and technology can and should be used for human benefit.
To commemorate Nayudamma, the NCDA has organized the Nayudamma Memorial Lecture and presented the Nayudamma Award annually since 1994.
"A scientist of international repute, Dr. Krishnan's contributions to the fields of big data, smart cities, living analytics and information technology are matchless," said Anumakonda Jagadeesh, director of the Nayudamma Centre for Development Alternatives. "The volume, variety and velocity of data coming into organizations continue to reach unprecedented levels. This phenomenal growth means that one must not only understand big data in order to decipher the information that truly counts, but must also understand the possibilities of big data analytics."
A faculty member at CMU since 1988, Krishnan was appointed dean when the Heinz College was created in 2008. He was reappointed upon the completion of his first term as dean in 2014.
"I am honored to receive this award, and I feel privileged to have the opportunity to address my colleagues at a ceremony that celebrates the legacy of Professor Nayudamma, who was an innovative and inspirational leader," Krishnan said. "The 20 individuals who have previously received this award have been instrumental in shaping the field of sustainable development for the past two decades, and to join them in this journey is truly humbling."
Professor Bhaskar Ramamurthi, director of IIT-Madras, expressed pride in the fact that this year's awardee is an alumnus of the institute.
"Our alumni have distinguished themselves in all walks of life, and Professor Krishnan is a shining example in the academic sphere," he said. "Over the recent past, we have evolved close collaborative ties with CMU, and Krishnan has played a key role in that. His work on data analytics, in particular, has great relevance to ongoing research on campus, and we look forward to a sustained relationship on this front."
The NCDA ceremony marks Krishnan's second trip to India this year to share his expertise on sustainable development. In July, he attended the Integrated Intelligence Showcase in New Delhi, the largest gathering of Carnegie Mellon alumni, parents and future students outside of the United States. Krishnan moderated the Smart Cities Panel at the showcase, which focused on how CMU is creating and leveraging technology to improve the human condition.