December 18, 2015
iGEM Gold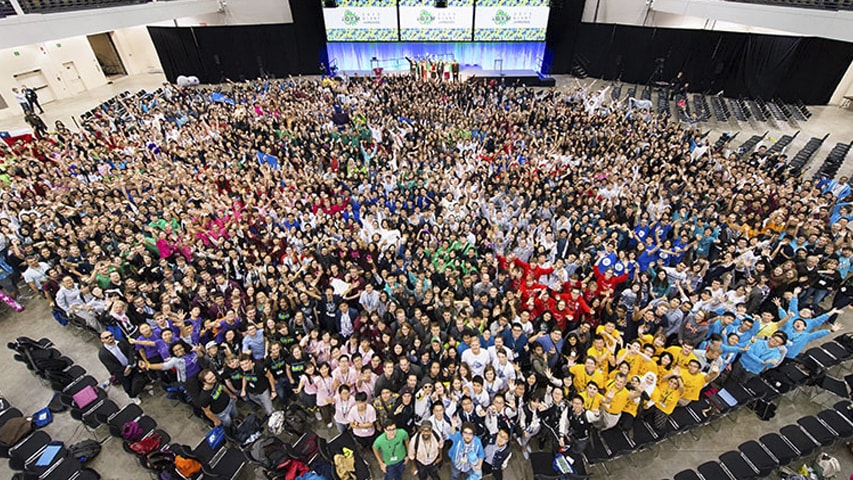 Five biologists and five engineers from Carnegie Mellon University came up with a bright idea for this year's International Genetically Engineered Machine (iGEM) competition.
The competition aims to advance the field of synthetic biology and develop a community of open collaboration through education and competition.
The team worked to improve access to synthetic biology by constructing a low cost fluorimeter for the analysis of biosensors that use light. Building on the light idea, they created a BioLight powered by luciferases, a class of oxidative enzymes that produce bioluminescence. The device was then encased in a 3D printed shell in the shape of Pittsburgh's Fort Pitt Bridge.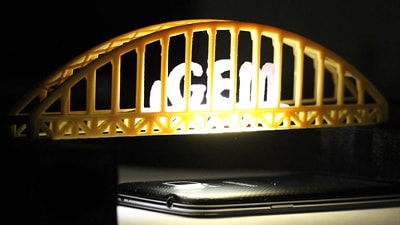 In addition to the BioLight, the team also improved last year's estrogen sensor  and model. The students' efforts were recognized this year with a gold award at the iGEM Giant Jamboree Competition in Boston, where more than 240 teams of graduate and undergraduate students showcased research that uses and contributes to the Registry of Standard Biological Parts — an ever-expanding collection of genetic materials that can be used to build biological systems.
"If someone wants to build a biological sensor or do an experiment in the lab, they can go to the registry, look at the parts and see how they could fit into their experiment," said Niteesh Sundaram, a master's student in Electrical and Computer Engineering (ECE). "All it's trying to do is document and expand the use of synthetic biology via a collegiate competition."
Team members included Sundaram along with: ECE junior Jordan Tick; Materials Science and Engineering (MSE)/Biomedical Engineering (BME) senior Dominique Maccalla; Chemical Engineering/BME junior Wei Mon Lu; MSE junior Max Telmer; and Biological Sciences seniors Michelle Yu, Donna Lee and Kenneth Li, junior William Casazza, and sophomore Ruchi Asthana.
"It's always nice to see a bunch of different people from all different majors coming together to collaborate on a project," Tick said. "One major can really impact another, even though they aren't strictly related."
The CMU iGEM team worked with Eindhoven University of Technology in the Netherlands, the University of Georgia and the University of Pittsburgh. The collaborations led to the team receiving an InterLab Study Award.
Team advisers were Biological Sciences research biologist Cheryl Telmer, ECE research scientist Natasa Miskov-Zivanov, Biological Sciences/Chemistry associate professor Marcel Bruchez, and ECE professor Diana Marculescu.
Related: