December 14, 2015
Energy Education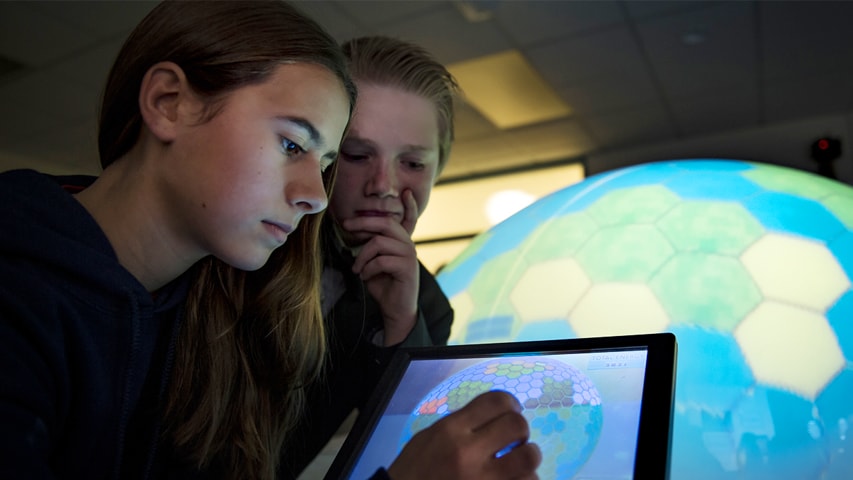 Students at Elizabeth Forward Middle School demonstrate a dome that projects planetarium videos, which was created by a project team from the Entertainment Technology Center.
Elizabeth Forward Middle School teachers had a question — how could they create a space to teach energy concepts in a different way?
The school partnered with Chevron, who provided a grant to fund an outside-the-box energy project for two years, and Carnegie Mellon University's Entertainment Technology Center (CMU).
The first of four ETC student teams began brainstorming about how to engage students. Using's Chevron's initial proposal of a Disney-like interactive energy space, the students worked on defining the room and setting the tone for future semesters. To do that, they started by interviewing their clients — the students.
"We found that they actually knew a lot about energy, but they knew of it more on a small scale, said Casey Ging (ETC 2015). "We decided to start on the biggest possible scale for our portion of the Energy Lab, the cosmic scale. We wanted to communicate the idea that the sun's energy is directly linked to all of our energy sources."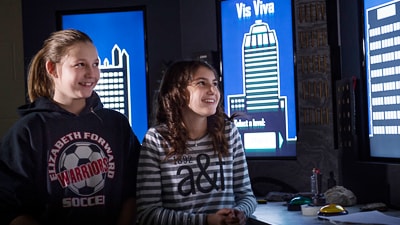 Elizabeth Forward Middle School students demonstrate a game that teaches about the Earth.
To accomplish this, the students had the idea of building a giant sun for students to interact with and touch.
Ging served as the initial game and platform designer, as well as its artist. He worked with Lisa Elkin (ETC 2015), the team's producer.
"We wanted to make sure we could project into a sphere, so we went and bought a lamp shade. We taped the shade to a tripod and held up a projector," she said.
It worked, and the idea grew into a 48-inch touch-screen dome where they could project planetarium videos.
That first team, known as infinitE, created a video game for students to play in which they learned how to power a town through strategic placement of solar panels. They conducted several playtests with teachers and students.
"We noticed a group of four to five students actively working together and strategizing how to do better in our game," Ging said. "We had created something that made kids want to work together to find a way to power a planet using only solar energy. We were pretty proud of that message."
Elkin stayed on the project the following semester, when her team, Vis Viva, developed another game where students used their voices in a microphone to explore different layers of the Earth's crust.
"Chevron was a huge resource. We met with their geologists as we were developing our game," Elkin said.
The collaboration continues this semester with a team named Flint, which is working to bring wind energy to life through physical and digital interactions.
Elizabeth Forward Assistant Superintendent Todd Keruskin said that CMU has transformed learning through these projects.
"Kids get excited with the level of engagement. I would think digging through the earth and sending sound waves into the earth is a heck of a lot better way to teach what we're teaching," he said.
Keruskin is working with the Beth-Center School District in Washington County to replicate portions of Energy Lab, including the dome and geological control center. 
Faculty advisor Shirley Saldamarco said she hopes that the integrated interactive experience could be installed in classrooms across the country.
She said that the faculty and staff of Elizabeth Forward were ideal collaborators, inspiring the ETC students with their infectious energy.
"Our students learn to deal with actual clients, identify and provide solutions to specific challenges and meet the needs of the end user," Saldamarco said. "What makes this so exciting to me is that it's more than just a theoretical exercise, it's an opportunity to create a practical and functional solution."
CMU is also home to the Wilton E. Scott Institute for Energy Innovation, which engages CMU's resources to find renewable energy solutions.

Related: