August 04, 2015
CMU Aims To Three-peat at "World Series of Hacking"
By Daniel Tkacik / 412-268-1187 /
dtkacik@andrew.cmu.edu
This week, Carnegie Mellon University's cybersecurity team, The Plaid Parliament of Pwning, will compete for its third consecutive title at this year's DefCon Capture the Flag competition. The competition, widely considered the "World Series of Hacking," will be held Aug. 6 - 9 at the Paris and Bally's hotels in Las Vegas.
"What happens during this contest reflects what's being played out today between consumers and companies, as well as between nations," said David Brumley, director of CyLab, Carnegie Mellon's cybersecurity institute, and the team's faculty adviser.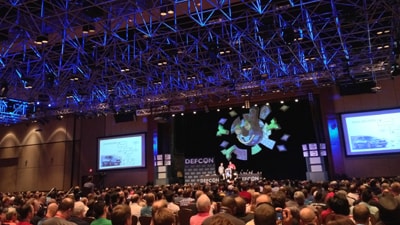 CMU won the past two DefCon competitions.
During the contest, 15 pre-qualified hacking teams from around the world attempt to find vulnerabilities in a set of software, and use that knowledge to hack other teams' networks while protecting their own. Teams capture virtual "flags" and accumulate points.
"The goal is to survive against the best hackers in the world," Brumley said. "Winning requires skill, knowledge and strategy."
The Carnegie Mellon hacking team formed in 2009 and began competing in DefCon's Capture the Flag competition in 2010. The team took top honors in 2013 and 2014.
"This would be the first time a team has won three consecutive DefCon Capture the Flag competitions in a row," said five-year veteran team member Tyler Nighswander. "The win would secure us a nice spot in DefCon history."
The winning team will be crowned at the contest's finish on Sunday, Aug. 9.