August 20, 2015
Photo Advisory: Carnegie Mellon Welcomes
 First-Year Students Aug. 23
By Stephanie Magulick / 412-268-2902 / smagulick@cmu.edu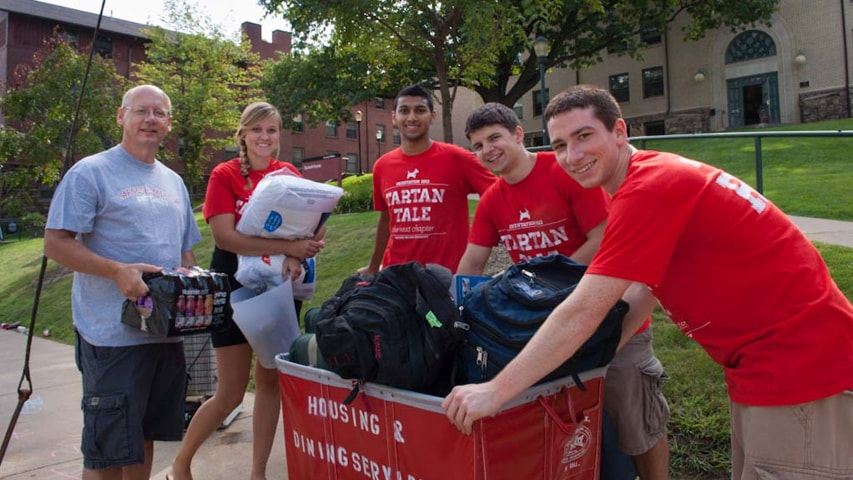 Carnegie Mellon University will welcome its first-year class on the Pittsburgh campus for move-in day on Sunday, Aug. 23. This year's class comprises 1,590 students from 39 foreign countries, 42 states and two territories. Additional facts about this year's freshman class include:
20,547 students applied for admission.
Of CMU's 1,590 incoming undergraduates, one in five is from outside the U.S. (According to the Institute of International Education, Carnegie Mellon ranked 25th among U.S. universities with the most international students last year.)
Carnegie Mellon's focus on diversity is evident as women represent a recent high-water mark of 46 percent of the freshman class; 16 percent of the class are African-American, Hispanic and Native American students.
More than 100 students representing 20 nationalities are expected to enroll at Carnegie Mellon's Qatar campus.
The College of Engineering is enrolling its largest class in six years with 513 students.
This year's orientation will introduce incoming students to Carnegie Mellon, the city and each other through a weeklong series of events on and off campus. Some highlights of the week include:
Move-in Day, 9 a.m.–2 p.m., Sunday, Aug. 23, Campus Housing and Oakland Apartments

First-year students will unload their cars and move into campus housing with the help of families, friends, and Carnegie Mellon staff and students. (Margaret Morrison Street and Tech Street will be closed to accommodate students, as well as Morewood Avenue between Forbes and Fifth avenues.) In previous years, a majority of students arrived between 9 and 11:30 a.m.
Playfair, 8:30–10 p.m., Monday, Aug. 24, The Cut (outdoors, next to the University Center)

Billed as "the largest icebreaker ever," Playfair marks the first time the Class of 2019 will assemble as a group.
PACE Orientation Day of Service: Make an Impact, 8 a.m.–noon, Friday, Aug. 28
First-year students and upperclassmen involved with Partners Allied in Civic Engagement will complete a variety of service projects throughout Pittsburgh, including:
Planting trees for Tree Pittsburgh at West Penn Park near Brereton and 30th St. in Polish Hill.
Weeding and cutting grass at the Beechview Community Garden at 1229 Rockland Ave.
Weeding at the community garden at South Dallas and Wilkins avenues.