April 07, 2015
CMU Spring Carnival Celebrates 101 Years, April 16-18
Several Oakland-area Roads To Close; Please Note Traffic Alert Below
By Stephanie Magulick / 412-268-2902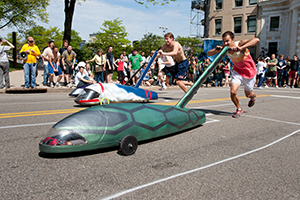 Event: Carnegie Mellon University's Spring Carnival enters its second century, April 16–18. The following is a sample of events that are free and open to the public.
This year's opening ceremony at 3 p.m., Thursday April 16 on the "Midway" will include remarks by Spring Carnival Committee members and Gina Casalegno, dean of Student Affairs and associate vice president. Student organizations are building booths focused on the theme "Living Library." The structures, often reaching two stories in height, will include "The Princess Bride,"  "Jumanji," "Jurassic Park" and "Sherlock Holmes."
The Sweepstakes buggy races is celebrating its 95th anniversary with a slate of events, including a redesigned Buggy Showcase, alumni panel and exhibition races. The buggy races (pictured) will be held Friday and Saturday mornings, April 17–18. Buggies are aerodynamic pushcarts designed and built by student organizations. Each buggy holds a driver who steers around a 4,400-foot course. Just an inch off the ground, buggies reach speeds of nearly 40 miles per hour. Each team includes five students who push a buggy in a relay-style race up hills and to the finish line. Student organizations cmuTV and WRCT 88.3-FM will stream live event coverage from their websites.
The 21th annual Mobot Races hosted by the School of Computer Science will begin at noon, Friday, April 17. Participants, including students and alumni, will race autonomous vehicles ("MObile roBOTs") they have built along a slalom-style course.
Student theatre group Scotch'n'Soda's production of Stephen Sondheim and George Furth's "Merrily We Roll Along" is set for 7 p.m., April 16, 2 p.m. and 7 p.m., April 17, and 2 p.m. and 11 p.m., April 18. All performances will take place in Rangos Ballroom. The production will take its viewers down memory lane with renowned Broadway composer Frank Shepherd to discover that even when you get everything you ever wanted, you may lose everything you ever had. Tickets are $10 for adults, and $5 for students with a valid student ID and children 12 and under.
More information is available at http://springcarnival.com and http://www.cmu.edu/alumni.
When: Buggy races will be held from 8 a.m. to noon on Friday, April 17, and 8 a.m. to noon on Saturday, April 18. The Carnival Midway will be open from 3 to 11 p.m. on Thursday, April 16; 11 a.m. to 11 p.m. on Friday, April 17; and 11 a.m. to 9 p.m. on Saturday, April 18.
Where: Spring Carnival activities will take place in the Morewood Gardens parking lot, across the street from Cyert and Hamburg halls. Buggy races will be held on Tech and Frew streets, and Schenley Drive.
Traffic Alert: The City of Pittsburgh has granted permits to close several Oakland-area roads during CMU's Spring Carnival and Sweepstakes buggy races. Forbes and Morewood avenues will be closed near the campus intermittently from 6 to 11 p.m., Friday, April 10, to allow students to transport their booths to the Spring Carnival Midway.
Margaret Morrison Street, Tech Street, Frew Street, Circuit Road and Schenley Drive (Panther Hollow and Schenley bridges included) will be closed from 5 a.m. to 12:30 p.m., Friday, April 17 and Saturday, April 18. Both the City of Pittsburgh Police and Carnegie Mellon Police will be present during the races to help monitor traffic. Roads will reopen by 12:30 p.m. If inclement weather causes the cancellation of the Friday and Saturday competitions, races will be held Sunday, April 19, during the same time frame.
Phipps Conservatory will remain open during normal hours. Due to road closures, visitors will need to park on the streets by the Carnegie Library and the surrounding area. City of Pittsburgh Police stationed at barricades will give bus drivers instructions for passenger unloading.
On-campus parking will be limited for non-permit holders and campus visitors April 13-17. Additional parking will be available for $5 (cash only) from 7 a.m. to 10 p.m., Friday, April 17 at the Bob O'Connor Golf Course at Schenley Park, 5370 Schenley Drive, and a shuttle service will be provided to and from campus. Free parking will be available in the East Campus Garage on a first-come, first-served basis on Saturday, April 18. More parking information is available on CMU's Alumni Association website.
###