April 28, 2015
Experiments, Brave Statements Featured in "Some Preservatives," Carnegie Mellon's Senior Art Exhibition, May 1-16
By Lauren Goshinski / 412-268-1533 / laurengo@andrew.cmu.edu / and Pam Wigley / 412-268-1047 / pwigley@andrew.cmu.edu
Thirty-six student artists from the Class of 2015 will present their final work in "Some Preservatives," the Senior Art Exhibition at Carnegie Mellon University.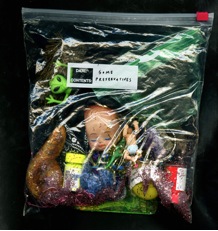 The exhibit opens with a reception from 6 – 8 p.m., Friday, May 1 in the Miller Gallery and runs through May 16. All events are free and open to the public. More information and a downloadable catalog are available at http://millergallery.cfa.cmu.edu/exhibitions/senior2015.
"Experiments and brave new statements, our final exhibition of the season marks a milestone for graduating Bachelor of Fine Arts and Interdisciplinary Art Degree students. Artworks spanning painting, video, interactive works, sculpture and installation occupy all three floors of the gallery and represent a culmination of the Class of 2015's undergraduate experience," says John Carson, head of the School of Art.
Exhibiting artists are: Marlena Abraham, Reese Adams-Romagnoli, Nicole Anderson, Sarah Anderson, MacKenzie Bates, Melissa Bryan, Charles Burlingham, Daniel Campos Zamora, In Sang Chang, Stephanie Cheung, Sarah Croop, Connie Dai, Lisa Imas, Emily Keener, Mishq Laliwala, Kathy Lee, Derval McDonnell, Laurel Michel-Schottman, Thomas Ndiaye, Katie O¹Connor, Justin Old, Sejal Popat, Tyler Porten, Samuel Poulos, Taylor Preston, Jolyn Sanford, Veda Sun, Andrew Sweet, Samantha Ticknor, Jamie Walters, Ruby Yen-ting Wang, Samantha Ward, Anna Wettergreen, Rachel Willen, Minnar Xie, Crystal Yip.