April 16, 2015
Event Honors CMU Alumnus and Fallen Marine, Raises Funds To Provide Service Dogs for Veterans
Kickoff Will Feature Canine Caddy Demonstration and Remarks from Students, Family
By Abby Simmons / 412-268-4290 / abbysimmons@cmu.edu
Carnegie Mellon University's Student Veterans & Family Association (SVFA), in coordination with the family of the late U.S. Marine Corps Lt. Col. Christopher "Otis" Raible, is hosting a memorial golf event and fundraiser for Canine Angels Service Dogs, a nonprofit organization that trains shelter dogs as service and companion animals for veterans suffering from post-traumatic and/or post-combat stress.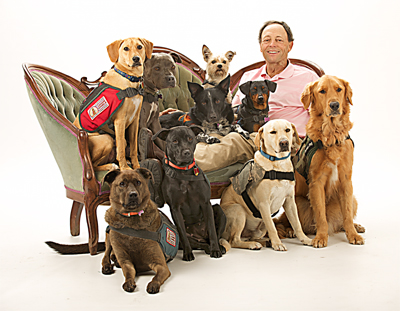 The event will be held on Monday, April 20, at Souths Hills Country Club, 4305 Brownsville Rd., Pittsburgh, Pa. 15236.
Raible, a North Huntingdon, Pa., native and 1995 graduate of CMU's College of Engineering, gave his life while serving in Afghanistan in 2012. Raible joined the Marines and earned his Naval Aviator designation in 1998. He was awarded the rank of Lieutenant Colonel in the summer of 2011 and was the recipient of many military honors, including a Meritorious Service Medal, 10 Strike Flight awards, and a Navy and Marine Corps Commendation Medal.
He posthumously received the Purple Heart, a Bronze Star, Combat Action Ribbon and an Air Medal with Strike 15 Award. CMU's Department of Civil and Environmental Engineering established the Lt. Col. Christopher K. Raible Distinguished Public Service Award in his memory in 2013.
Trainers from Canine Angels will be on hand at the kickoff event with dogs trained to help disabled veterans who are golf enthusiasts. The dogs can retrieve balls, tees, bunker rakes and clubs while observing golf etiquette.
Lt. Gen. Jon M. Davis, U.S. Marine Corps Deputy Commandant for Aviation, will speak at the post-outing dinner.
Event Details:
When: Opening remarks and Canine Angels Service Dogs demonstration, 11:40 a.m.–noon, Monday, April 20. Members of the SVFA and Raible's family will be available for interviews.
Where: South Hills Country Club, 4305 Brownsville Rd., Pittsburgh, Pa. 15236
For more information: http://www.cmu.edu/veterans/raible-golf/.
###