April 24, 2015
Carnegie Mellon's CyLab Biometrics Center Wins Gold at Edison Awards
By Daniel Tkacik / 412-268-1187 / dtkacik@andrew.cmu.edu

Carnegie Mellon's CyLab Biometrics Center won Gold at last night's 2015 Edison Awards in the category of Applied Technology. Since 2008, the Edison Awards have recognized products, institutions and business leaders showing excellence in innovation, with Elon Musk, CEO of Tesla/SpaceX, and Yang Yuanqing, CEO of Lenovo among those recognized in the past.
"It is a huge honor for our lab to receive an Edison Award," said Marios Savvides, research professor of electrical and computer engineering and founder and director of the Biometrics Center. "This award is an important verification of our technological innovations and their positive impact on society."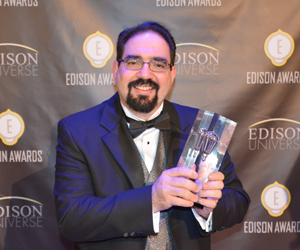 Savvides' Biometrics Center, housed in the College of Engineering's cybersecurity laboratory, CyLab, is developing tools that use "bio-metrics" — unique signatures in a person's appearance such as the shape of their face or the iris in their eye — to achieve accurate identification. The center recently demonstrated that its long-range iris system could be used to reveal a driver's identity by scanning their iris through a side-view mirror of a car.
"Savvides' lab is creating opportunities to save lives by enabling officers to identify potentially dangerous criminals without even approaching the vehicle," said Jim Garrett, dean of Carnegie Mellon's College of Engineering.
The center also addresses the problem of partially-occluded faces in photographs, such as when a subject's face is not directly facing the camera and only part of a subject's face is captured. Savvides' technology is able to predict what the subject's face looks like in its entirety with high accuracy, even with a blurry, low-resolution image.
"The computer is doing something the human brain cannot do," Savvides said. "I just find it extremely fascinating how machine learning and pattern-recognition can create this artificial intelligence system that can make correct inferences from such small amounts of facial data."
Mario Savvides (above) poses with the top prize at the Edison Awards.