September 04, 2014
Press Release: Carnegie Mellon's Miller Gallery To Exhibit Works by More Than 75 Artists This Fall
Contact: Pam Wigley / 412-268-1047 / pwigley@andrew.cmu.edu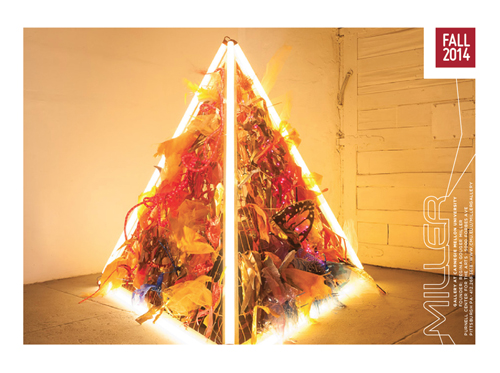 PITTSBURGH—The Miller Gallery at Carnegie Mellon University offers many events and exhibitions this fall featuring local, national and international artists, cultural producers and emerging talent from Carnegie Mellon's School of Design.
Free and open to the public, the Miller Gallery team has planned nine events, five exhibitions, and one touring exhibition, collectively touting the talented works of more than 75 artists.
"This fall's slate of exhibitions appeals to such a variety of individuals," said Franco Sciannameo, associate dean of the College of Fine Arts and head of the programming/project team at the Miller Gallery. "From design to art to neuroscience, these works show the breadth and depth of the Miller Gallery's content going forward. We're proud to welcome local, regional and national artists and their works."
Highlight for the season are:
* Changing Channels (Aug. 29-Sept. 14): The Center for Arts in Society (CAS) Media Initiative presents the work and activities of three projects which it supports — Listening Spaces, SocialChange101 and Trans-Q Television. Each project explores the continually evolving extensions of current media and engages diverse communities with results from the hilarious to the sublime.

* 2014 Pittsburgh Biennial (Sept. 20-Nov. 30): Curated by Casey Droege, the Pittsburgh Biennial is a collaborative project presented by the city's pre-eminent arts organizations to illustrate the diverse talents of several artists. The gallery's exhibition focuses on artists whose work collects and reconfigures the data and debris of today's world to produce works with a fresh perspective.

* Neurons and Other Memories/Work In and Around the Brain (Oct. 10-26):  This exhibition features investigations, translations and reflections of neural mechanisms by artists and neuroscientists. Work includes themes in neuroanatomy, perception and memory. This exhibit is curated by Patricia Maurides in collaboration with the Center for the Neural Basis of Cognition (CNBC), a joint program between CMU and the University of Pittsburgh.

* Armin Hoffman (Nov. 14-March 1): Armin Hoffman is the legendary Swiss graphic designer who has been an educator for 44 years. He has influenced generations of designers and has helped to shape the world's perception and understanding of color and design. This exhibition showcases one of his silkscreen portfolios and other works on paper. The exhibit is curated by April Greiman, organized by the LA Architecture and Design Museum, and co-presented by the CMU School of Design.

* CMU School of Design Senior Exhibition (Dec. 4-14): This exhibit celebrates the most recent projects by seniors in CMU's highly rated School of Design. The work illustrates each individual's unique identity and talents that make them sought after by some of the world's top organizations.

Receptions take place with each exhibition; visit www.cmu.edu/millergallery for specific dates and times.

###
Pictured above is art from the gallery's 2014 Pittsburgh Biennial exhibition, which focuses on artists whose work collects and reconfigures the data and debris of today's world to produce works with a fresh perspective.